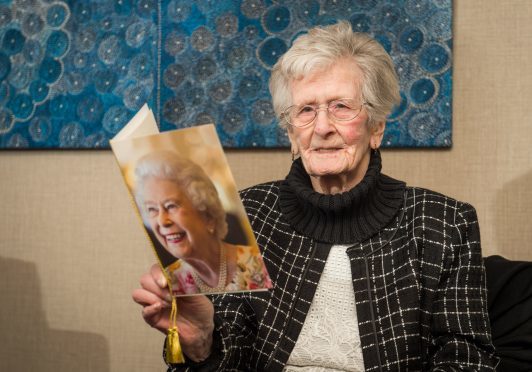 A former nurse who treated prisoners of war and defeated cancer more than four decades ago has celebrated her 100th birthday.
Despite becoming a centenarian, Elsie Duncan, better known as Dolly, still lives independently at her Dufftown home.
Yesterday, she celebrated reaching the phenomenal landmark with friends and neighbours with afternoon tea in Aberlour.
Mrs Duncan was born in Fyvie but moved to Speyside to begin school in the early 1920s.
After leaving school the mother-of-one became an accountancy clerk at Alan's Ironmongers on Dufftown's Church Street.
However, she left her hometown during World War II to tend to prisoners of war in hospital who had arrived off ships docked at Edinburgh.
She said: "It was mostly the Germans. They would come in with all kinds of injuries. I was an auxiliary and we dressed their wounds to make sure they were alright.
"We never had any bother from them, they were very good to the nurses."
At the end of the war Mrs Duncan moved to London, where she worked in the accounts department of department store John Lewis.
However, she returned to Speyside about 10 years later to care for her parents, Adam and Rosella Duncan, until they died.
Then in the 1970s she ended up in hospital in Aberdeen herself while she battled cancer.
Mrs Duncan's daughter, Rosella Smith, said: "She was really poorly but came back home again after her treatment and has never looked back.
"She's a very proud and determined lady who likes her independence. Her whole attitude has given her a desire to keep going on.
"We're very lucky she's got fantastic neighbours roundabout her."
Mrs Duncan was toasted by family and friends yesterday as she read her telegram from Her Majesty the Queen.
The 100-year-old has one daughter, two grandchildren, four great-grandchildren and welcomed her first great-great-grandchild, Sienna, three years ago.
She stressed that "hard work" had been her secret to a long life.
She said: "I certainly don't feel 100. I feel much younger. I'm glad to be in Dufftown, even when I was away, it was always home."