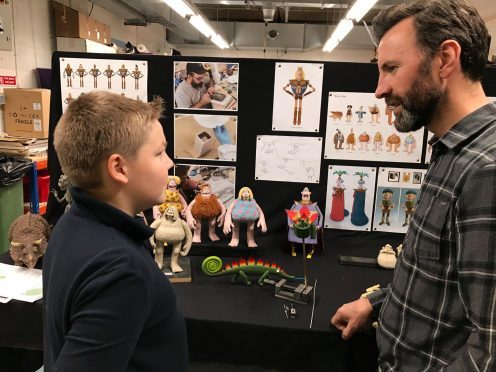 A leading animator from one of the world's most celebrated firms is coming to Moray to teach youngsters the tricks of the trade.
Andy Symanowski, a stop-motion animator at Aardman, will visit Findhorn later this month after being inspired by a youngster from the region.
The specialist met Milne's High School pupil Rory Milne after the enthusiast's creation "Spirodon" won a national television competition on Blue Peter.
The S2 pupil, from Lhanbryde, toured the Bristol studios of the company to see his historical creation, which is a blend between an armadillo, dinosaur and a chameleon, come to life.
Now Mr Symanowski, who has worked on the company's latest production "Early Man", will visit the Moray Art Centre to lead a stop-motion animation workshop.
Rory is already an eager maker of short films at his own home.
He said: "I enjoy making little films. It's fun to see little things come to life. Animation is certainly something I'm considering doing as a career."
His mother, Carolyn, said: "He loves lego and has been making little stop motion animations since he was about eight.
"It's amazing what he has been able to do just by moving figures little by little."
Aardman Animations is best known as the creators of the "Wallace and Gromit" series – which has won three Oscars.
Jacqueline Bennett, manager of Moray Art Centre, is excited to be welcoming part of the celebrated company to the region.
She said: "It's just come from Rory's visit to Bristol that Andy has offered to run an animation workshop weekend up here.
"It's such an amazing opportunity for children here to get involved in and we're obviously thrilled to have been chosen as the venue."
The weekend workshop is running for children between 12 and 16 years old on Saturday, February 24 and Sunday, February 25
Mr Symanowski will also be hosting a talk and question and answer session at the venue on Friday, February 23.
Information about booking tickets can be found on Moray Art Centre's Facebook page or by calling 01309 692426.