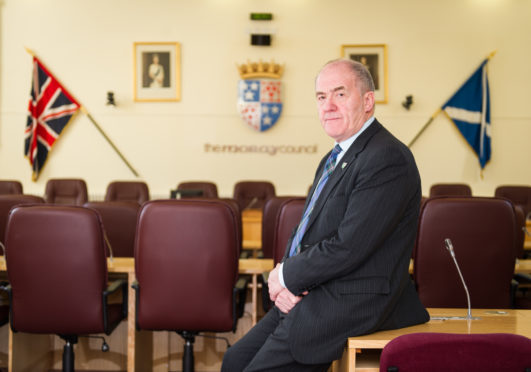 Moray Council's administration has unveiled a draft budget to press ahead with more than £6million worth of cuts – despite its shortfall dropping by more than £4million.
Last night the leader of the authority, George Alexander, stressed the proposals were as "fair as possible".
But union bosses have branded the proposals, which will be debated on Wednesday, as a "Valentine's Day massacre" due to nearly 90 jobs being cut.
And the opposition SNP group has criticised the raft of savings, which target education staff, as "damaging and irresponsible" while warning it will cost the authority more in the long-term.
The ruling Conservative and independent administration has pressed ahead with almost all the proposals that were in December's consultation – the only concession being saving some public toilets following a public backlash.
It means reducing bin collections to every three weeks, closing all town halls across the region and getting rid of school crossing patrollers will be on the table when the budget is debated next week.
Mr Alexander said: "This situation isn't going away. We still need to find another £8million next year too. The easier we make it now, the harder it will be then.
"I don't see any other way to make it fairer. I know people think we have targeted education but that is the biggest part of the entire budget.
"I'm still nervous about things in there too, like roads. Once they begin to deteriorate it costs a lot to put them right again, they're essential too.
"This isn't a budget the people of Moray deserve – it's forces outwith our control that have led us to this point."
Figures published by the council ahead of Wednesday's meeting reveal a £15million shortfall was projected at the start of December. However, that dropped to £10.7million by the end of January.
Mr Alexander added: "The amount of cash we get from Edinburgh is exactly the same as last year but we need to take account of inflation and pay rises."
Yesterday, the opposition SNP group revealed they were drawing up an alternative budget to protect the most vulnerable in the region.
Co-leader Graham Leadbitter warned that cuts to the local Citizens Advice Bureau was a "red line" they could not support – describing the proposals as "slash and burn".
Librarians, technicians and the Skillforce programme have been targeting for cuts in schools.
SNP co-leader Shona Morrison added: "The cuts proposed for education are damaging to the opportunities for our young people and they are completely irresponsible.
Moray Council Budget: Flooding schemes could be put on back burner to save money
"Despite getting more than £4million extra then they anticipated they want to slash education spending by £1million – it's short sighted and will cost more in the long run."
Council officers have projected that 89 jobs will be "removed" from the books between deleting vacant posts and reducing hours.
It is expected that there will be up to 45 compulsory redundancies as a result, with a cost of about £92,000.
Suzanne Wright, secretary of Moray Unison, said: "The council doesn't have any coherent plan of how the cuts they are proposing will be implemented, therefore they cannot know the full extent of the devastation they are causing to public services in the area.
Labour councillor John Divers, leader of the four-man Moray Alliance group, intends to have discussions with the administration next week.
He said: "I find these proposals quite disturbing. I know there has to be savings but these target our most disadvantaged and vulnerable.
"Walter Wilson in our group left the administration because of right wing attitudes. Looking at this, it's hard to disagree with him."