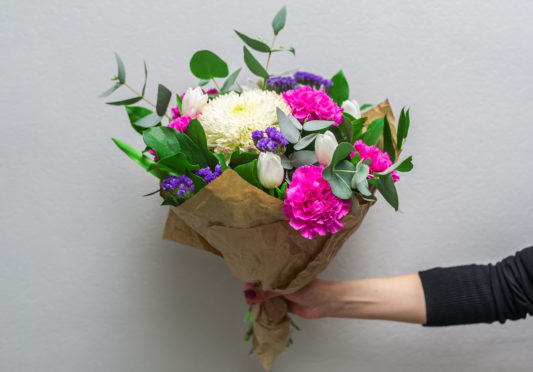 Moray mums could be left disappointed on Mother's Day after it emerged fresh flowers are among items retailers will not deliver to parts of the north and north-east.
The snub was highlighted by MSP Richard Lochhead, whose Fair Delivery Charges campaign has exposed unfair fees levied on shoppers in rural Scotland.
Thousands of members of the public have responded to his call for evidence with horror stories of hidden charges, often despite promises of free delivery to mainland UK.
It has so far resulted in 124 reports to the Advertising Standards Agency.
And last night Mr Lochhead said the bar on bloom was "just the latest ridiculous snub for shoppers in the Moray and the Highlands, who are once again told they don't live on the mainland".
"Rural consumers are often more dependent on online shopping, but are constantly faced by hidden fees and extortionate surcharges.
"For shoppers without a local florist or who live far from their family, this sort of approach goes beyond inconvenience and becomes infuriating."
Some of Mr Lochhead's frustrated constituents gave details of orders they had tried to place.
One tried to arrange a bouquet from Arenflowers.com but when adding a Moray address during the checkout process was told the "postcode was unavailable" despite the item being listed as being available to "mainland UK".
Another wanted to order Waitrose's freesia and rose bouquet, but was also told their Moray postcode was not available.
Tesco Direct offered free delivery on Mother's Day, but again a customer was told the mixed roses "cannot be delivered to your address".
Mr Lochhead said: "It's time that businesses realised that they have a duty to consumers to be honest at the outset about their fees – and not make promises about 'mainland UK' delivery that they've no intention of keeping.
"But it's also time that the UK government, who have the power to regulate, took action and sorted this mess out."
A Tesco spokesman said they tried to deliver to as many customers as possible.
"To ensure that our flowers arrive in good condition, we are unable to offer home delivery to all locations. However, customers are able to choose from a wide range of Mother's Day flowers in our many stores across northern and highland Scotland," he said.
An apologetic Waitrose spokesman also said: "We want to meet demand wherever possible but unfortunately we are not able to deliver flowers to everywhere we'd like because the time they'd need to spend in transit would compromise their quality.
"We apologise for any disappointment caused on this occasion but we are continuing to look at how we might be able to deliver to more places in the future."
An ArenaFlowers.com spokesman also said they didn't want to compromise the condition of the flowers and that they encouraged customers to choose products from their Letterbox range.
He said: "They are hardier and specifically designed to be delivered by Royal Mail. The postcodes entered are those where the timeframe involved cannot protect the quality of the flowers."