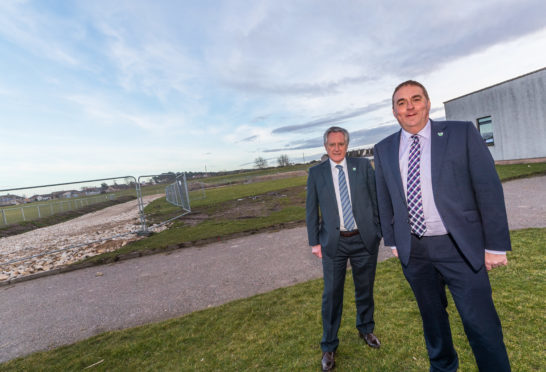 Cash-strapped Moray Council has vowed to push on with plans for a controversial new school – despite costs soaring to £42million.
The cost of the new Lossiemouth High School has risen by another £1.3million, despite councillors yesterday agreeing to a minor design to save some costs.
If they had not voted through the changes – which include removing a 6ft-wide strip from the building's atrium, reducing the size of the dining hall and relocating the car park – the latest increase would have been closer to £4million.
Initially budgeted at £31million, difficulties in building on the marshy ground allocated for the 800-capacity school have caused its total cost to surge to £42million.
Moray Council will pay £15.9million, while the remainder of the bill will be footed by the Scottish Government's Scottish Futures Trust.
Council convener James Allan said: "It is sad that we had to make some design changes in order to ensure the project was affordable for the council.
"None of the design changes we discussed will impact upon the level of teaching to the pupils or the school experience they will receive in the new building with classroom sizes remaining as per the original plans."
The 123,000sq ft facility is scheduled to open by June 2020, and will include a community centre, library, swimming pool and 3G pitch.
Despite the rising costs, councillors have maintained that the current plans are the only way forward for the project.
Conservative group leader Tim Eagle said: "The reality is that Lossiemouth does have complex ground conditions and, logistically, there is nowhere else to build it.
"This is the best place for us to do this."
Of the local authority's 23 members, 19 opted in favour of the changes at a closed-doors meeting.
SNP member for Heldon and Laich, Amy Patience, was one of four opposing the move.
She said: "I argued the case for retaining the original floor area in order to protect the size of the area of the new school that will be available to the wider community.
"The size of the library was the biggest issue to ensure it is a good size to serve both the school and the community.
"I am disappointed, but the fact Lossiemouth is going to get a brand new high school, swimming pool, community centre with community library and a 3G pitch is great news for Lossiemouth and Hopeman, Duffus, Cummingston and Burghead."