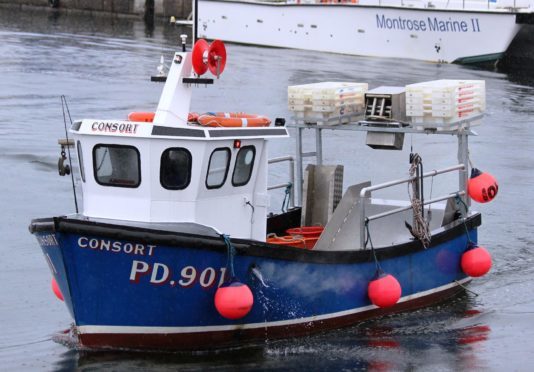 A fisherman was rescued from his vessel just minutes before it sank to the floor of the Moray Firth.
Kevin Grieve, from Buckie, abandoned his stricken creel boat yesterday after it began taking on water about two miles off the coast.
The lobster fisherman was found clinging to his capsized vessel when rescuers arrived to help him.
The lifeboat, a fellow fisherman and the pilot boat from Buckie Harbour all rushed to the aid of the craft after receiving a mayday distress signal from The Consort shortly before 2pm.
Rescuers reported hearing Mr Grieve, who is understood to be a member of the Buckie lifeboat crew, speaking when he was taken ashore before he was taken to Dr Gray's Hospital by ambulance.
Last night, Lee Campbell, who owns the creel boat Lily, revealed he was about to enter the Moray port onboard his craft when he heard the mayday call from his friend.
He said: "I heard the mayday from The Consort and immediately threw my ropes off to get to him. It was a bit of a mad scramble between myself, the lifeboat and the pilot vessel, we couldn't get out there fast enough.
"It was lucky we got out there as quickly as we did because it sank completely. The pilot boat and myself just stood by to let the lifeboat crew do their work."
Witnesses reported seeing choppy waves off the coast of Buckie throughout the day with six-foot swells yesterday.
Mr Grieve was taken back ashore by the lifeboat crew shortly before 3pm to a waiting ambulance.
Darren Bremner, harbourmaster of the port, watched from the shore and said the rescuers had done a "fantastic job".
He said: "We had three guys out on the pilot vessel. Once the lifeboat was there, our responsibility, as the council, was primarily to ensure there was no pollution – and there wasn't."
A Coastguard spokesman said: "Buckie lifeboat was deployed to an area off the coast of Buckie. One occupant from a fishing vessel was taken on board and taken ashore by the lifeboat and left in the care of the ambulance service."
An ambulance spokeswoman said: "We received a call at 1.52pm to attend an incident in Buckie. We dispatched one ambulance to the scene and a male was transported to Dr Gray's Hospital."