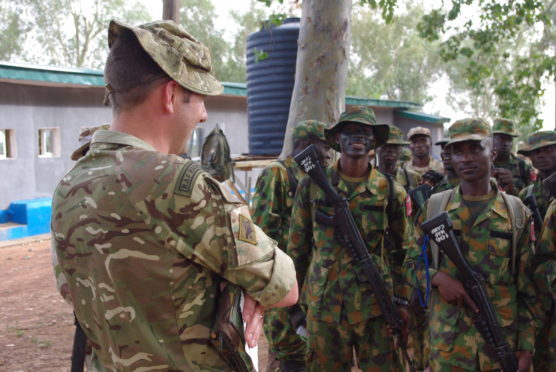 Air force personnel from the north-east are in Africa helping to prepare local troops in their fight against one of the world's most notorious terrorist groups.
A team from RAF Lossiemouth is running a six-week training schedule for the Nigerian Air Force and Air Police to aid their efforts against extremist organisation Boko Haram.
The militant Islamist group has caused havoc in Africa's most populous country for many years, through bombings, assassinations and, most prominently, abductions.
Now personnel from the Moray-based 5 Force Protection Wing (5 FP) have organised intensive training in close quarter battles, force protection, intelligence and special investigations.
They are also providing training for military working dogs.
The Lossiemouth crews are currently at the Kaduna Airbase, where temperatures are peaking at 38 Celsius, before they join the fight in the north-east of the country.
Aircraftman CJ Iwu, from the Nigerian Air Force, said: "The training is exhausting but very interesting. We have never worked such long days.
"My favourite part of the day is the flight competition. They boost morale and revise the day's training."
Senior Aircraftman Sam Walton, from 5 FP, said: "It's good to compare their ability at the start of the day with the end of the day. Seeing progress is always really rewarding."
The training programme is the sixth time that 5 FP – which includes gunners, RAF police officers, chefs, medics and technicians – has been deployed on during the exercise.
Nigeria's chief of air staff, Air Marshall Sadique Abubakar, requested the assistance of the Scots due to intelligence that the country's air bases will continue to be attacked.
He said: "All these reinforce the need to have a robust base defence concept that is capable of providing guidance for responding to a wide range of situations that may threaten our bases."