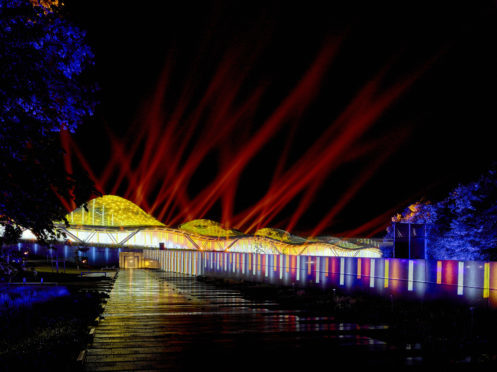 Whisky aficionados are expected to descend on Speyside en masse this weekend to be among the first to visit a futuristic new distillery.
Macallan is opening its new visitor attraction and production facility today, which has been more than six years in construction and planning as part of a £140million project.
Yesterday, the whisky giant warned visitors they were expecting to be "very busy" throughout the day with "long queues" – even warning people planning to visit that there is "no guaranteed entry".
Hotel operators have reported being busier than normal for the time of year ahead of the launch with some enthusiasts reported to be considering arriving in the early hours of the morning to be the first to see inside.
Images of the intricate sloping grass roof have been shared extensively on social media ahead in anticipation of seeing inside the modern building.
The base, which is cut into a slope above Craigellachie, is expected to double the amount of tourists visiting the firm's historic home to more than 30,000 this year, with the total expected to rise further.
Representatives from Macallan, which is owned by Edrington, have been hosting exclusive tours for invited guests throughout May.
The new distillery will also allow the drinks company to increase production by up to a third if required.
Ian Curle, chief executive of Edrington, said: "This is an exciting occasion. When the doors open, we expect this new Macallan enterprise to deliver significant benefits for the tourism industry, whisky exports and the economy."