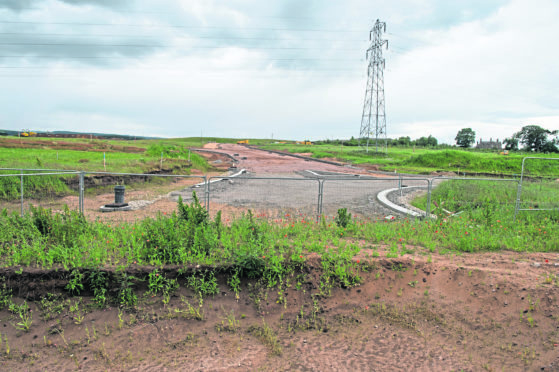 Building work on a massive business park on the outskirts of Moray's biggest town has been delayed by a water main.
Construction crews have been unable to complete work on a new road leading to the A96 Aberdeen to Inverness road near Elgin due to the pipe.
It is understood that work on that area of the site, which will become a roundabout at Barmuckity on the eastern edge of the town, has been held up for several months as a result.
The team behind the £12million Elgin Business Park project, which is expected to create up to 4,000 jobs, has confirmed construction is now expected to be completed in August – two months later than planned.
Director Alan Esson said: "We're a bit behind where we were hoping to be but everything is still progressing well.
"We've been aware of the pipe. Initially Scottish Water was happy for us to leave it as it is but subsequently decided they wanted it diverted.
"Work hasn't stopped at all. We've been working elsewhere. We've been finalising some technical work for the pipe, which is in-hand, and we should resume work there soon."
This week, Travelodge had plans approved to open a 61-bedroom hotel at the business park. The firm is the first to have permission to open at the site.
Proposals to open a petrol station and drive-thru coffee shop and a self-storage facility are yet to be decided.
Mr Esson said interest in the site continues to be high with more proposals expected to come forward in the coming weeks.
He added: "We're delighted with Travelodge. Hotel spaces are difficult to get in Elgin at the moment."
Yesterday, Scottish Water said it was working with Elgin Business Park to allow affected work at the site to resume.
A spokesman said: "The developer of the site is aware of the water main and has been since an early stage in their work.
"They are responsible for preparing appropriate proposals to divert the infrastructure so that their development can proceed and we are in touch with them about this process."