 A campaign to ensure the future of a popular bridge in Moray will be supported by the council – but the authority has stopped short of offering financial help.
Fears have been raised that the crossing to the East Beach in Lossiemouth could be condemned unless money is spent on its maintenance.
The structure is in the unusual position of having no owner after the Crown Estate declined to take possession of it.
Yesterday, Moray Council debated a proposal to offer support to the Lossiemouth Community Development Trust, who want to repair the Seatown footbridge to ensure it remains usable.
Heldon and Laich councillor Ryan Edwards and Fochabers Lhanbryde member, Marc Macrae, joined in an attempt to lever £25,000 support to help the group draw up plans.
However, ahead of the debate, chief executive Roddy Burns issued an "additional expenditure warning" – stressing that the council is still forecast to run out of cash before 2020.
Mr Edwards said: "If we don't do anything, then the bridge will remain ownerless and fall into greater disrepair until the inevitable happens – either somebody is injured or it is shut because it is dangerous.
"The uncertainty about it has to stop. It's a gem in Moray's crown and will only get busier with the expansion of the RAF base."
Mr Macrae added: "Losing the bridge would seriously impact on the local economy, as well as cause serious reputational damage to the council."
The bridge was formally owned by the Lossiemouth Old Harbour Commissioners. However, when that organisation was wound up no successor was identified.
Council officials confirmed that "minor repairs" had been done on the crossing by the authority, but stressed the spending did not mean they owned it.
Forres councillor George Alexander said it would be "lunacy" to spend money on the project without knowing who owned it.
He said: "If I was the development trust, I would be trying to grab the bridge seeing as nobody else wants it. If they do, then I would happily write them a cheque. myself."
After Mr Edwards dropped the request for cash, councillors voted to offer council expertise for the project, while assisting in identifying other sources of cash, by 17 votes to three with two abstentions.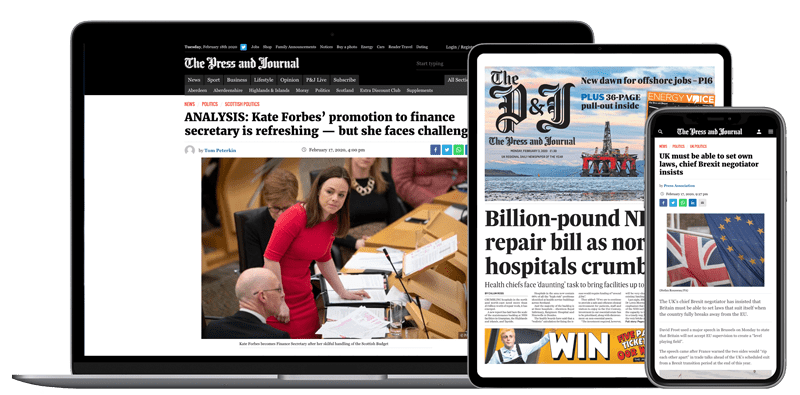 Help support quality local journalism … become a digital subscriber to The Press and Journal
For as little as £5.99 a month you can access all of our content, including Premium articles.
Subscribe