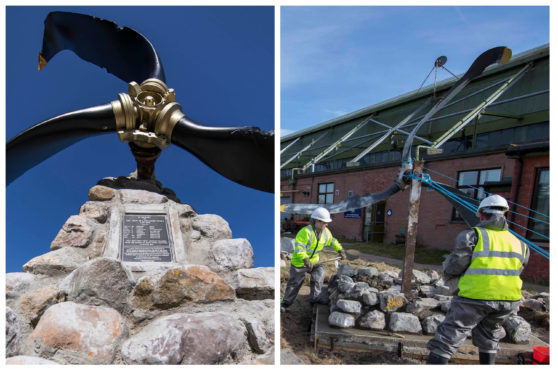 A poignant memorial to the crew of a Lancaster TX264 who died in a tragic training exercise accident almost 70 years ago has been relocated to the home of the Royal Air Force in the north of Scotland.
The eight-strong crew of the doomed aircraft had taken off from RAF Kinloss on the evening of March 13, 1951, and was due back at the station by 2.25am the following morning.
However, while the plane was returning to base it was met with bad weather and crashed just below the summit of Beinn Eighe in Torridon, killing everyone on board in the early hours of March 14.
Because of the remote nature of the crash site, it took search teams two days to find the location of the downed Lancaster, and when rescue squads arrived at the base of the mountain on March 17 they were faced with the challenge of navigating the difficult terrain Beinn Eighe.
Because the RAF Kinloss mountain rescue team were not trained as climbers, they teamed up with the Royal Marines to reach the site and recover the bodies.
As a result of the incident, the decision was made that all future RAF mountain rescue team personnel would receive training to climb in both hazardous summery and wintry conditions so they could be readily deployed to any mountainous region.
A small cairn featuring a propeller from the aircraft was erected at the former station RAF Kinloss in memory of the eight men who died on that fateful day, but when the mountain rescue team moved to RAF Lossiemouth, it was dismantled and stored.
But this week, the memorial has been re-erected at RAF Lossiemouth to honour the crew's bravery and the lessons learned by the air force's rescue personnel.
Sergeant Ali Beer, the current team leader of the mountain rescue team, said: "It's great to finally have the Lancaster TX264 cairn relocated to a permanent home at RAF Lossiemouth.
"It's a symbol of the skill and determination that all RAF Mountain Rescue teams have to ensure personnel are not left in inaccessible locations should the worst happen and there is an aircraft crash."
Most of the Lancaster wreckage is still strewn across Beinn Eighe and the battered aircraft parts now serve as waypoints for mountaineers.