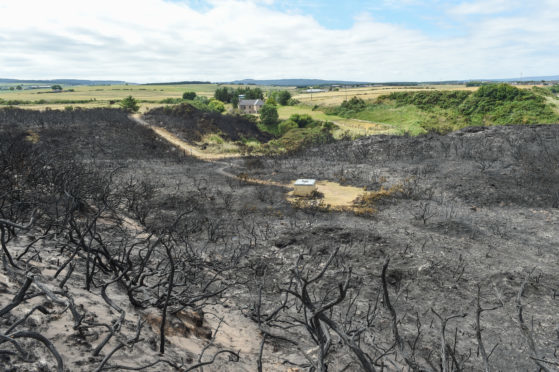 A stretch of a north-east golf course was sealed off yesterday amid fears that users could reignite a wildfire by accidentally "kicking up embers".
Fire chiefs have confirmed that the scene of a huge gorse fire, which tore through miles of shrubbery near Portgordon over the weekend, no longer poses a danger of flaring up again.
But bosses at Buckpool Golf Club were taking no risks, after the flames crept alarmingly near to its green during the height of the incident.
VIDEO: Fire crews battle wildfires as they spring up all over the north-east in a weekend of drama
They decided to open the course, but to restrict access to its 14th, 15th and 16th holes.
Club captain John Riddoch said: "We closed off parts out of concern for safety.
"We don't want any golfers to kick up any embers that may be deep-rooted and start the fire again."
Mr Riddoch added that the course had been "really lucky" to avoid serious damage, with only cosmetic parts of the grass to the side of the green being burned.
He said: "We got off very lightly and are so thankful for the emergency services."
Flames erupted along a stretch of gorse on Saturday afternoon, forcing a family out of their house and causing the death of one pet chicken.
About 50 firefighters were required to get the blaze under control, with more crews called out again on Sunday when the brush reignited.
Last night police said that investigations into whether or not it was started deliberately are ongoing.
The devastation left behind was plain to see for passersby after the smoke cleared, as blackened branches were spread far and wide.
Scores of burnt golf balls previously lost to the course's big hitters littered the scene, standing out against the surrounding charred earth.
Independent councillor for Buckie, Gordon Cowie, said: "I want to congratulate the firefighters for the sterling work they did.
"One house had the fences burned and they did a great job containing it and making sure no-one was hurt.
"The police were involved too and it was a great team effort from the whole lot of them.
"It's not an easy job and we can't thank them enough."
Fellow ward councillor, Tim Eagle, said: "There is always a worry that things like this can kick off again and there is a lot of old gorse along the coast road nearby.
"There are houses close to a lot of the areas of gorse as well.
"This has been bad for the wildlife but thankfully no human life has been lost.
"It doesn't appear as if there has been any long term harm so we just have to be vigilant now."