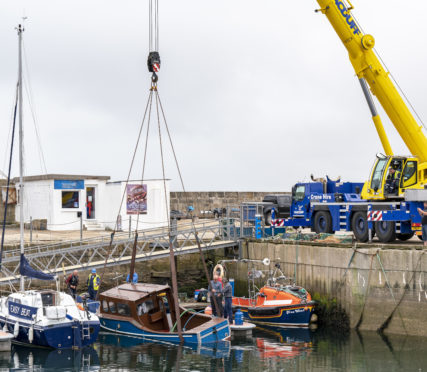 A wooden boat has been raised from the seabed in a Moray harbour.
A crane hoisted the Javelin back to the surface in Lossiemouth yesterday after the craft had spent several days beneath the water.
The vessel was launched at the marina last week after spending a considerable period of time out of the water.
However, the traditional-style boat began taking on water almost immediately and slipped beneath the surface where it was berthed overnight between Saturday and Sunday.
Nobody was on-board when it sunk.
It is understood a pump was fitted to the boat in an effort to keep it afloat but was not able to do so.
Yesterday, a crane and divers were at the marina to bring the Javelin back to the surface once again. Last night, the boat was resting on the hardstanding at the quayside.
Officials checked the vessel for damage as it resurfaced from its spell underwater.
Charlie Cranfield, harbourmaster at Lossiemouth Marina, said: "The boat was launched last week after some time out of the water and it just went down.
"I was informed that it was sinking on Saturday night but by the time I got there it was already on the bottom.
"A crane and divers have been down and lifted it out and it's now on the hard stand. The owner is going to come and fix it."