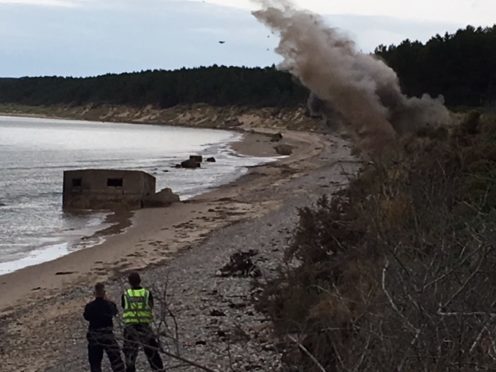 A controlled explosion had to be carried out yesterday following the shock discovery of a Second World War artillery shell on a Moray farm.
The Royal Navy bomb disposal team were called out to Wester Coltfield farm near Forres, where a farmer had discovered the piece of war ordnance in one of his fields.
Police first attended at 11.30am, with the area around the shell secured and the device collected by the disposal team later in the afternoon.
It was then taken to nearby Roseisle Beach, where it was safely detonated by the specialist unit.
Retiree Norman Green and his wife Margaret were walking their dog around the area when they saw their usual preferred route cordoned-off.
The couple continued walking into Roseisle forest, where they were stopped by a police officer who informed them of the controlled detonation and told them to be careful.
Mr Green said: "My wife and I always walk our dog through the beach and through the Roseisle Forestry car park and this time we noticed that the road was closed off.
"We immediately thought there had been an accident of some sort.
"However, when we ventured deeper into the woods we were approached by a police officer who told us that a bomb had been transported to the beach to be disposed of and that we had to be careful."
Mr Green praised the police and bomb disposal unit for the way they calmly went about their business.
He said: "Everyone was very calm. There was no feeling of danger about it at all.
"I asked them whether I could stand and watch to take photos and they were fine with that as well. It was all very relaxed."
A police spokesman confirmed that a controlled detonation was carried out at Roseisle Beach.
He said: "A piece of World War Two ordnance was found in a field near Forres by a farmer. It was collected at 3.48pm and was detonated within an hour. The beach was cordoned off around the area to allow the disposal team to do their job."