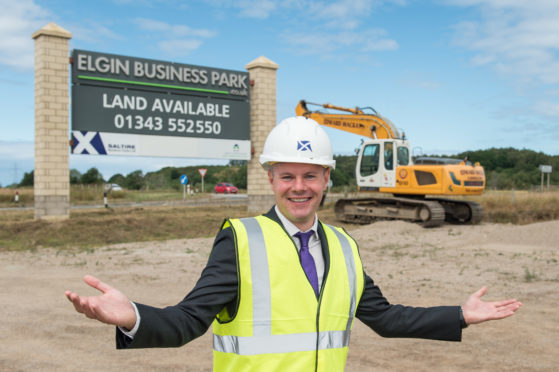 Finance Secretary Derek Mackay believes a new business park in Moray will allow the region to punch its weight against Aberdeen and Inverness.
Construction is under way at the Elgin Business Park, which is on the eastern outskirts of the town at Barmuckity.
Yesterday, Mr Mackay visited the site to inspect progress being done on the project, which is expected to create up to 4,000 jobs.
During the trip he backed Moray's bid for £200million of growth deal funding to deliver large projects – and said it was only right the region should receive its "fair share" to compete with the rest of the country.
And Mr Mackay said he believed the business park, which is the largest under construction in the north of Scotland, will make Elgin as attractive to firms as Aberdeen and Inverness.
He said: "I think it can. It's on a great location next to the A96 and it's going to be bringing a skilled workforce with it.
"This kind of development is the type that will fuel and lead to other developments and attraction. It's going to be very welcome in the area."
He added: "Of course it will work hand-in-hand with the growth deal too. Negotiations are still on-going but the Scottish Government is very supportive of growth deals for every part of the country. Moray should receive its fair share too."
Elgin Business Park is not part of the growth deal proposals, which include a manufacturing base, a gas pipeline to expand capacity and a new campuses for Moray College UHI.
Travelodge and local caravan firm S&D Harper have already had plans approved for the site, which is being developed by Saltire Business Parks.
Meanwhile, proposals have been submitted by Euro Garages for a petrol station and Starbucks drive-through amid interest from a tyre supplier.
Roads have been created through the former fields, which are expected to begin being surfaced this week.
Sandy Adam, a director of Saltire Business Parks, said interest was "continuing to build" from firms.
He said: "It's badly needed at the moment due to the shortage of commercial land available. We've had interest from companies who are exploring whether they should move here – whether they can make the economic work.
"I would hope having serviceable land available will be a draw. We're working with Highlands and Islands Enterprise (HIE) to try to attract firms to Moray.
"We know it's an attractive place to live and work, we've just got to get the right infrastructure in place to make people see that."
The business park has been marketed as a "gateway" to Elgin. A new roundabout will be created for access to the site from the A96 while wetlands and avenues of trees will enhance the scenery.
The first phase of the £5million development, which covers 50 acres, has been supported by a £1.9million grant from HIE. The remaining 75 acres are expected to be developed at a later date.
Donna Chisolm, HIE's Moray area manager, said: "As the park grows, there will be more and more job opportunities and space for businesses to flourish, which is good news for Elgin and the wider economy of our area."