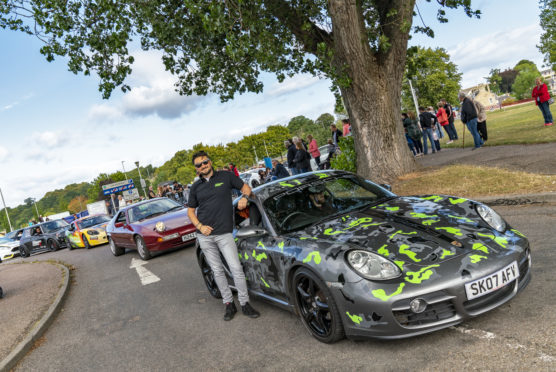 A record number of cars took part in the annual Cannonbaws Run, which sees the vehicles leave Elgin and tour the NC500, one of Scotland's most scenic routes.
After starting four years ago with only seven cars, this year's event saw 65 vehicles embark on the fundraising initiative.
Those participating included everything from Porsches and souped-up Hondas to refurbished Minis and Fords.
The cavalcade congregated at Cooper Park on Saturday to allow interested locals to admire the innovative stickers and designs on the vehicles.
Some of the drivers even decided to wear fancy dress, with one couple arriving as Burt Reynolds and his bride, although with gender roles reversed.
This was a play on the film from which this event derives its name: Cannonball Run featuring Reynolds and Jackie Chan.
The first of the cars then left along the route at around 10.30am, led off by organiser Kris O'Neill in his colourfully embellished Porsche Carrera.
He was thrilled that the event had expanded so much in such a short time.
He said: "We started this four years ago with a small number of cars, but this year we ran out of space and sold out very quickly with 65 cars registering to take part.
"All the money raised gets split 50-50 between the Marfan Association and Scotland's Charity Air Ambulance (SCAA)."
Both of these causes are close to Mr O'Neill's heart because he works as a flight paramedic for the charity and his brother Liam suffers from Marfan syndrome.
The cars drove to Ullapool where they stayed overnight before taking part in the Golspie Car Show yesterday.