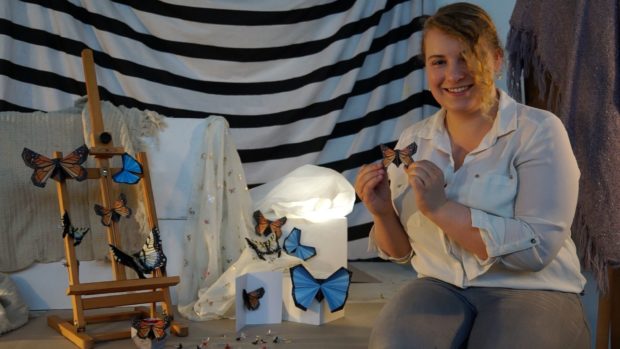 A Moray student has created a new product to help promote the conservation of an everyday insect.
Cari Watterton, from Elgin, came up with the idea of producing butterfly origami kits through a module on her university course.
Now the 21-year-old wants to raise money to fund workshops that will make her product more disability friendly and make it available to sell to the general public.
Miss Watterton aims to make more people aware of the importance of butterfly conservation.
She said: "There are a couple of reasons why I came up with this idea. Firstly, I wanted to raise money for Butterfly Conservation as I feel that a lot of people don't notice them.
"People need to learn how important they are, they are a bit like bees in a sense.
"I also wanted to connect more people to nature, which this butterfly origami helps to do."
The number of butterflies and moths in Britain have been declining in recent years.
Called Flutterby, the butterfly origami kits come with an instruction leaflet, the printed butterfly paper and QR codes that can be used to access informative videos.
Miss Watterton, who studies Computer Arts at Abertay University, only began to further develop her idea for university after a chance meeting with a Butterfly Conservation representative.
She said: "Flutterby began as a project for one of my university modules, Digital Physical Experiences. This module was about creating something digitally that could be brought into the physical world. I've always been inspired by both butterflies and origami.
"During this project I realised how great it would be to use these as products to raise money for Butterfly Conservation, and quite by chance a colleague of mine was the Butterfly Conservation representative for my local area."
Miss Watterton is hoping to raise £350 so she can run widespread workshops with mental health support groups and learning disabled individuals to make her product accessible to all.
She said: "Origami is a great creative exercise that helps develop the brain, and I'd like my kits to be as impactful and accessible as they can be."
To support Miss Watterton's cause and receive your own Flutterby origami kit, head to