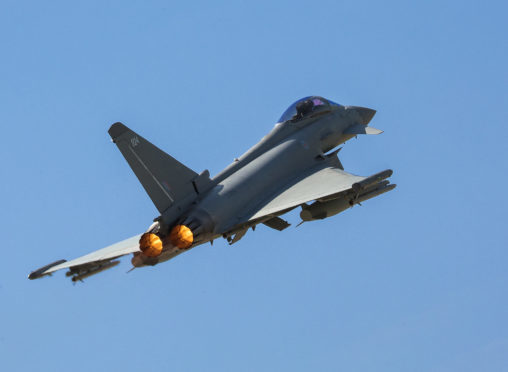 RAF Lossiemouth could be used as a key bargaining tool to secure Nato membership for an independent Scotland, it has been claimed.
The proposal has been made in a new report by Retired Lieutenant Colonel Stuart Crawford, a former SNP candidate and junior defence spokesman.
He suggested that more than £2billion could be saved a year from what is currently spent by slimming down Scotland's military after independence.
Under the plan, Mr Crawford envisaged an air force of 50 aircraft and drones, but no fast jets, a Scottish navy with 20 vessels, including two frigates and smaller patrol vessels of various classes, and an Army consisting of one deployable brigade of 6,000 personnel, as well as support staff.
The total spending of only £1.3billion would be well below 2% of GDP demanded by Nato, but he suggested that Lossiemouth could be used during any negotiations.
"Scotland's strategic location and military assets could be also offered, including the development of a Nato or European base at Lossiemouth or leasing Faslane," the report said.
---
>> Keep up to date with the latest news with The P&J newsletter
---
In 2013, the SNP's independence white paper envisaged keeping Lossiemouth as Scotland's main air force base, with at least 12 Typhoon fighter jets to be retained there initially, rising to 16 within five years.
It also suggested that the Scottish Government would negotiate with Westminster over the potential establishment of "joint facilities" at the Moray base.
Earlier this year, the SNP's new Sustainable Growth Commission prospectus proposed a defence budget of around £2.7billion.
The proposals in Mr Crawford's report would represent about half of that level of spending.
"A full spectrum military capability is neither necessary nor easily affordable, and specialisation and exploitation of potential military alliances to cover capability gaps, particularly with European partners, are the way forward," he said.
However, Scottish Conservative MP for West Aberdeenshire and Kincardine, Andrew Bowie, branded the plan "very worrying".
He said: "To propose a plan so substantially short of the 2% of GDP minimum demanded by the alliance is frankly irresponsible and short sighted."
A spokesman for the SNP said: "The positive debate about Scotland's future as an independent country includes the wide range of views held across Scottish society.
"The SNP is absolutely clear that we should get rid of costly nuclear weapons and instead invest in conventional defence."