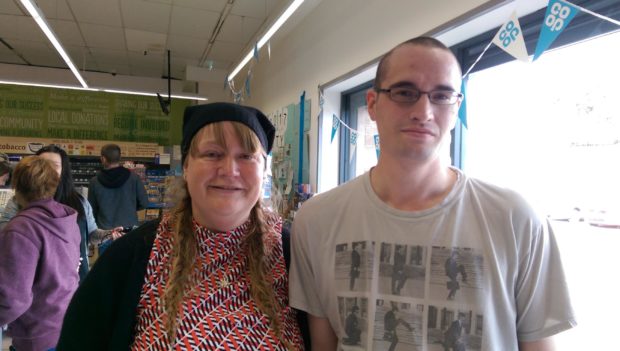 A supermarket worker in Moray has shorn his beloved locks to help support a family whose home was reduced to a ruin in a fire.
Liz Wood and her two sons lost everything in the blaze that engulfed their house and the Beach Bar in Lossiemouth last week.
About £5,000 has already been donated by locals to help the family get back on their feet.
---
>> Keep up to date with the latest news with The P&J newsletter
---
Now Craig Milton, who works at the Co-op store on Coulardbank Road, has added £1,500 to the total by collecting donations to have his head shaved.
Owner of Moray bar that was burnt to the ground hopes it can be rebuilt
Mrs Wood and her children Luke and Owen, who celebrated his 14th birthday on Saturday, watched as the 29-year-old bared his scalp.
Mrs Wood, who has been staying with her parents in Lossiemouth since the fire, said: "We wanted to come down because everybody has been so kind. There's been so much support from everyone – clothes, toiletries, just everything.
"The whole community has really stepped up to help us. It's been amazing.
"We've just been taking it a day at a time, it's only now that it's sinking in and I've started to be a bit more emotional about it. It's very overwhelming.
"The immediate thought was about the possessions we've lost but now it's just the practicalities – birth certificates, insurance documents – it's an enormous task to contemplate replacing everything."
A crowd of shoppers watched as Mr Milton's long hair was reduced to a buzz cut at the weekend before he was presented with a beanie hat by Mrs Wood to help keep him warm as winter approaches.
A fire service investigation is currently in progress to establish the cause of the fire that destroyed the bar and home one week ago.
Luke Wood was the only person in the building when the fire took hold and ripped through the building in the early hours of the morning.
The family paid tribute to an alert neighbour in the aftermath who raised the alarm to ensure the 20-year-old got out of the house safely.
Mr Milton said: "I've had long hair for about 10 years now. I've considered shaving it off for a while.
"I can't imagine what it's like to lose everything like that. I just wanted to do something to help."
Community rallies to help mum and sons
Fire crews battled the flames at the Beach Bar in Lossiemouth, and a neighbouring home, for hours last weekend.
Liz Wood and her family, who lived in the house, lost everything in the blaze.
Mrs Wood – who was away on holiday when the fire broke out – raced home, while the community immediately rallied round to help the family pick up the pieces. Within hours, thousands had been raised through online fundraising pages and collection buckets in the local Co-op.
On Saturday, the A96 Cruiser car group also held a car meet-up yesterday in the town's West Beach where they invited vintage and modified vehicles down to help fundraise for both the Wood family and the bar owners.
And local businesses are doing their best to help out, with Grampian Furnishers trying to get some of the Beach Bar employees back into work.
Owner Royce Clark is a good friend of bar owner Graham Fleming, and with his business relocating and expanding, he has been in contact with those who have lost their job thanks to the blaze.
He said: "We're about to open a new shop in Elgin and a new cafe as well, so I've already talked to Graham about employing a few of his staff member in the coffee house.
"I am going to meet with many of them in the next few days and hopefully we can help out a few of them.
"The whole commuity is behind Graham and there is a hard time ahead and the employment of his staff is a big thing for him so hopefully this works for us and them."