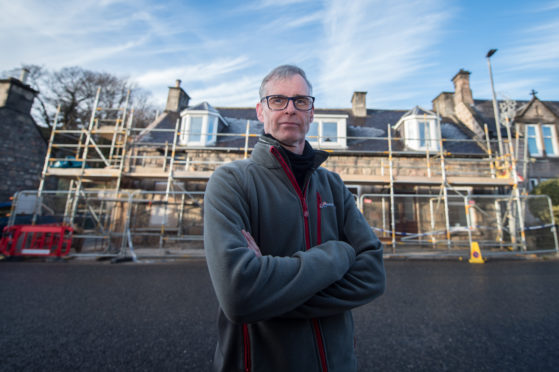 A Moray couple forced out of their home after a Tesco lorry crashed into it eight months ago were unable to spend Christmas and New Year in their own house.
Bob, 80, and Isobel Murray, 79, have been living in rented accommodation in Rothes ever since a delivery truck collided with their property on the town's High Street on May 13.
Their house is currently still undergoing repairs following the incident and work will not be finished until the end of this month at least.
The couple's son Philip Murray said:  "It's currently under construction and is about 80% done so it should be ready by the end of January – although it is still covered in scaffolding the outside of it is nearly done.
"They are hoping to get back in as soon as they can.
"Unfortunately at this time of year this is dependent on a couple of things, including the weather and holidays but work is progressing so hopefully they can move back soon."
His parents were sleeping when the lorry crashed into their home at about 2.30am that morning and neighbours raced over to the building to help them get out.
The truck, which was heading north on the A941 Elgin to Dufftown road, allegedly struck two cars before coming to a stop in the side of the property.
A 48-year-old man has been charged in connection with the incident.
Mr Murray jun said: "My parents just want to forget what happened and move straight back into their home as they are fed up being where they are.
"They did not spend Christmas there but they are reconciled to that and want to put all this behind them.
"They are trying to get past all the hassle that goes with this and are looking forward to the whole situation being over."
Mr Murray jun also wanted to thank the local community for their help.
And he said: "The local Tesco has been as helpful as they could be so we want to thank them.
"We also want to apologise to Rothes locals who have been desperate to get their pavement back as the scaffolding has been covering it for so long."