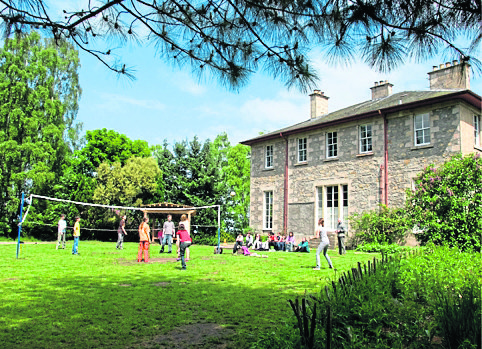 Hollywood star Tilda Swinton has asked Education Secretary John Swinney to back the loss-making private school she co-founded.
The actress has held a face-to-face meeting with the Deputy First Minister over the future of Drumduan House, which her two children attended.
The experimental Moray school – with fees of up to £8,500 a year – has just over 80 pupils and is based on Rudolf Steiner's liberal philosophy.
However, almost half of its £676,000 income comes from donations from 'patrons' including, it is believed, the Oscar-winning star.
Swinton helped set up the school – where twins Xavier and Honor were pupils – in reaction to her own 'Edwardian' childhood.
The cash-strapped school, in Forres, holds no formal exams and pupils do not learn to read until the age of seven.
In England and Wales, four state-funded Steiner school are up and running, with a further seven in the planning stages.
The actress, who is one of the school's six directors, said she had met the Deputy First Minister.
Speaking at a Bangladeshi education conference, she said: "We would like in our very embryonic way to become a model.
"We have already started talking to the Scottish Government – we were talking to the Deputy First Minister of Scotland John Swinney.
---
>> Keep up to date with the latest news with The P&J newsletter
---
"We have a very enlightened government in Scotland and they are very interested in what we are doing.
"What we wanted them to say was that they would fund us as a pilot so that we could develop ourselves and then find a way of infiltrating ourselves into the state system."
She added: "We are a private school and we are not subsidised – we are supported by interested patrons but we are not subsidised by the state in anyway."
Company House returns for Drumduan School, which merged with the existing Moray Steiner School, show that it has been running a "large operational deficit".
The accounts notes that pupil rolls were up, adding: "Drumduan however is supported by a number of patrons from within and without the community.
"Payrolls are always met, and bills are always paid."
The Scottish Government is set to strip private schools of charity relief – which shaves 80% off rates – costing them millions.
The first Steiner school opened in the UK in 1925. There has been growing government support south of the border – since 2008 four state-funded Steiner Academies have opened in England – the latest in Exeter.
A further seven more are proposed, under the Free Schools programme, and in all there have been 30 applications to open Steiner Free Schools.
Cambridge-educated Swinton, whose 21-year-old twins, with former partner John Byrne, have now left the school, said the school produced well-rounded independent individuals.
"I would suggest that universities are really sick of getting these 18-year-olds who are totally neurotic, totally over-stressed, having got four As at A level and being addicted to all sorts of anti-depressants, who don't actually have any life skills, or any sense of humility or any sense of adaptability, coming and taking up the places.
"My children's class – 16 graduating children, one did not apply to college or university, all the others 15 have gained places in national and international colleges and universities with no exams. This says quote a lot about the colleges and universities."
Yesterday a Scottish Government spokesman declined to comment on their talks with Miss Swinton about state funding for Steiner schools.
"Responsibility for the delivery of education rests with individual local authorities.
"The Scottish Government provides substantial funding to local authorities for that purpose and it is for them to decide how to allocate it to schools."