A new grocery shop is taking shape in a Moray village – but some locals remain opposed to ever visiting after a historic pub was controversially bulldozed to make way for the development.
The Tennant Arms stood on St Andrew's Road in Lhanbryde since 1854, but was torn down in November to make way for the Co-op.
The move dismayed locals who had fiercely protested developer Tahir Pervaiz's plans to transform the building, and campaigners amassed 500 signatures on a petition calling for it to be saved.
Demolition crews begin knocking down historic Moray pub to make way for shop
Construction work eventually began earlier this year, after the local authority granted permission for the project at the end of 2016.
The spine of the building is now in place and towers over the street, offering locals an idea of how the new shop will appear.
Mr Pervaiz attempted to quell complaints by designing the shop in such a manner that it resembles its fallen predecessor.
But villager Gill Stewart, who was adamantly against the Tennant Arms being knocked down, said its replacement was a "sad sight".
Villagers gather to say farewell to 'old friend' as Victorian hotel is about to be demolished
She said: "It is very sad to see a historic building knocked down when it didn't need to be, there has been a lot of annoyance from local people about this for a long time.
"There is no need for another shop here and they have spoiled what used to be a good view.
"You see it when you come in to Lhanbryde and it is prominent although it is being made to look like the old building.
"I don't like going down and looking at it."
She added: "It still has a long way to go before they can reinstate the stonework properly but it is nice that the new building does have some sort of shape.
"I will not be doing my shopping there anyway."
Colin Keir, a partner in the Plans Plus architect firm which helped Mr Pervaiz to form plans for the Co-op previously stressed that the team would have saved the old buiding "if they could".
Co-op says they remain committed to Moray store plan despite delays
He said: "Parking procedures dictated that we needed that space."
During the hotel's heyday it was a regular stop for people going between Inverness and Aberdeen.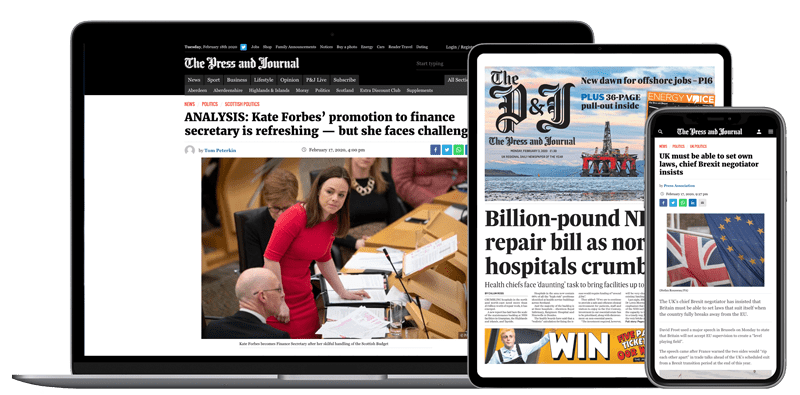 Help support quality local journalism … become a digital subscriber to The Press and Journal
For as little as £5.99 a month you can access all of our content, including Premium articles.
Subscribe