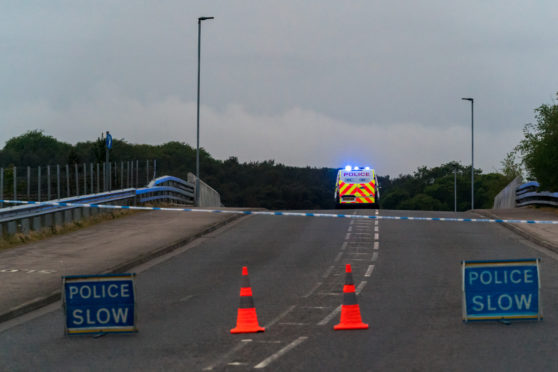 A woman who found a suspected hit-and-run victim lying injured in a Moray town believes he "could have been left for dead".
The casualty, who is in his 20s, sustained a severe head injury before being discovered on the pavement of Reiket Lane in Elgin at about 8.20pm on Sunday.
Police yesterday said officers were investigating whether the man had been hurt in a hit-and-run incident.
One of the passers-by who stopped to help the cut and bruised man, who was also complaining of a sore back, last night said it was "unimaginable" that he had been left alone in the condition that he was.
She said: "He was not sure what had happened to him. Me and two other ladies stayed with him until police and ambulance arrived.
"It looked like a hit-and-run. I cannot begin to imagine how some human could do that to another.
"For all they knew they could have been leaving him for dead."
Blankets were put under the head of the injured man at the side of the road after two cars stopped to provide assistance at the scene.
Bandages were then wrapped around his head and hands by concerned locals before he was taken to Dr Gray's Hospital in an ambulance.
The man remains in a serious condition but police have confirmed that his injuries are not life-threatening.
Investigations carried out at the scene have led officers to examine the possibility that he was hit by a vehicle.
Police have now launched an appeal for witnesses to establish what happened and are  going door-to-door to speak to locals while reviewing CCTV footage.
Sergeant Alexander Bowser-Riley said: "Firstly, I would like to thank the motorist who stopped at the scene and contacted emergency services for help.
"Inquiries are ongoing to establish the circumstances of how this man came to be injured.
"Following a road collision investigation carried out at the scene, one line of inquiry being pursued is that he was involved in a collision with a vehicle. We are, however, keeping an open mind."
Officers have also appealed for anyone who saw a man in his 20s wearing a maroon top, blue jeans and black boots at the scene to get in touch.
Anyone with information should contact police by calling 101.