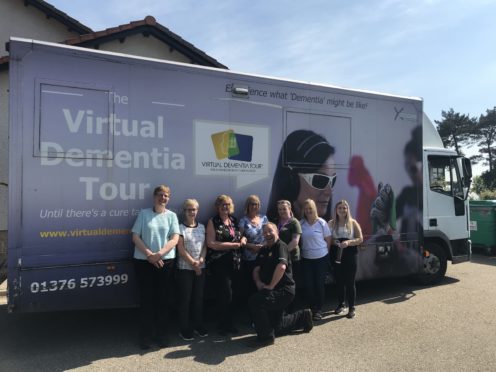 Staff at a Moray housing association have been given an insight into life with dementia – through virtual reality.
Training2Care provided Hanover Scotland staff from two developments in Elgin, and helped staff experience sensations felt by those with the condition.
Using high-tech goggles, the teams were able to see some of the challenges a dementia sufferer faces, giving them a better understanding of their behaviour.
For example, often those with dementia can be considered troublesome or even become violent after refusing to take showers or insisting on taking their shoes and socks off often due to a sensation of pins and needles.
They also learned why a resident might not realise a fire on television isn't real and call emergency services.
Scott Page, health, safety and wellbeing manager for Hanover Scotland, found the training particularly helpful following his father's diagnosis with the condition.
He said: "Before I did this training, it was so hard for me to understand and I would get frustrated at my own dad for how he would act when I was doing things that I thought were helpful.
"The understanding I have gained of the different aspects of dementia has been incredible and really given me a clearer insight in to how to ensure my dad can enjoy his life."
Steven Pritt, workforce development manager for Hanover Scotland, said: "You could see how emotional all of our staff got as they got to experience just some of what our residents with dementia suffer.
"This experience has given them a unique insight which will help them to understand better the needs of our residents."