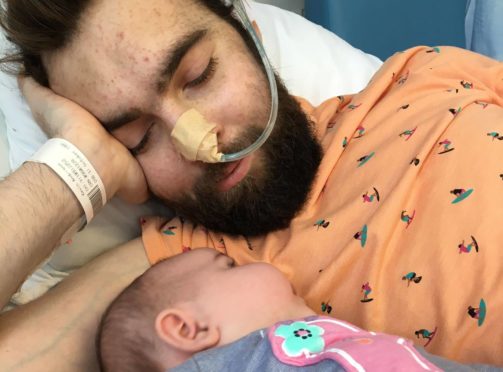 A Moray surfing coach has opened up about the health problems that have made his life "hell" and left him unable to pick up his newborn child.
Kevin Anderson has been forced to cancel classes at his Riding High surf school for at least a year as he battles back from a kidney condition which turned his life upside down.
The 27-year-old's daughter was only two months old when he became seriously ill.
But after 12 gruelling hours of surgery and months away from home in hospital, the surfing instructor has since got married and is now on the mend – and is eager to thank the community and NHS staff for their support.
Mr Anderson, from Lossiemouth, believed the spell of bad health was originally due to an allergic reaction from the medication he was taking for his kidney condition.
After "agonising" stomach pains and an ultrasound, doctors told him he had a congenital choledochal cyst – which is an enlargement of the bile duct.
Mr Anderson, who now lives in Elgin, said: "I was never someone who got ill, injured or had health problems until I was about 24 or 25 when I found out about my kidney condition.
"I thought the stomach pains had to do with the steroids I was taking for it, but actually was because of this cyst.
"By the time I had surgery, the cyst had grown eight inches wide and was round like a football.
"All my other organs in that area were squashed to the side. The radiologist said that this had been the biggest cyst he had ever seen on a scan, and said my stomach was wrapped around the cyst.
"It was incredibly hard, the pain team couldn't find a combination of relief that would work for the stomach pains and I couldn't go home since I was too ill and had a kidney condition which was complicating it.
"I needed to be fed through a nasal tube and my consultant set the task of building my strength up to walk round the ward 10 times, which I would need for surgery."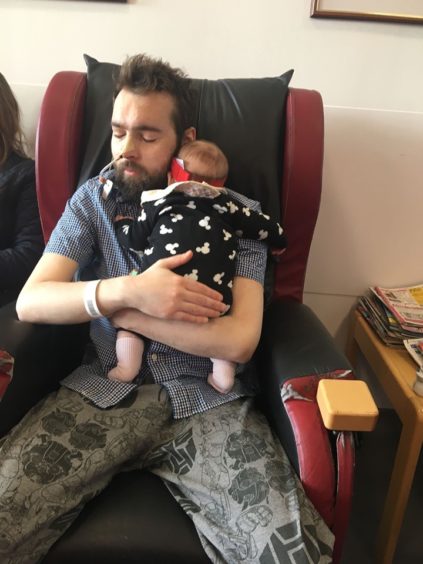 During the operation, which was planned to take four to six hours, doctors discovered the cyst had badly damaged his gallbladder and appendix and both were removed.
He spent three months in Aberdeen Royal Infirmary away from his his newborn daughter Esme and then-fiancee Claire.
Mr Anderson added the stress from being away from his loved ones and his business was "awful".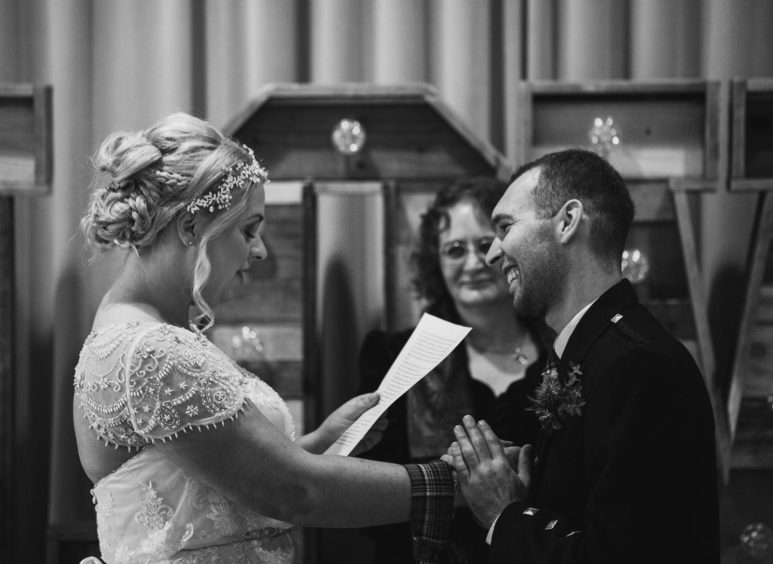 "I just wanted to get back to being a dad and having my little one.
"I'm really lucky for my friends and family who were there almost every day.
"And this was them making the trip from Elgin to Aberdeen. They were very supportive, especially when I wasn't all there to listen to what the consultant was saying.
"When I got out of hospital I couldn't pick Esme up, so it was a big motivator for me to get my strength up.
"Taking her up the stairs was a big achievement. And getting married to Claire last month was really the best part of coming out of hospital.
"I couldn't have asked for a better day and I thank my lucky stars to have the most incredible wife," he said.
Mr Anderson also wanted to thank the "many nurses" that were there for him, and who he got to know personally.
The popular surfing coach is working on getting his strength back through physiotherapy and is hoping to get his classes up and running again next year.