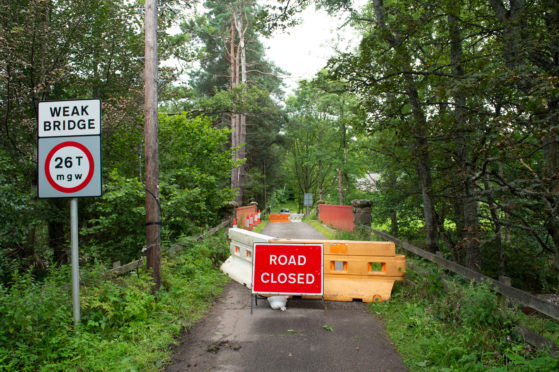 A bridge closure in Moray could have a devastating effect on a remote community battered by heavy rain.
Flash flooding across the region last week left the Delfur Bridge near Boat O'Brig, south of Fochabers, undermined after the deluge ripped the stonework away.
Yesterday, Moray Council took the decision to close the crossing over the Mulben Burn, which is part of the popular Speyside Way, due to safety fears after another inspection – and warned it may have to remain closed until September 15.
However, concerns have been raised that the sole remaining access road for about 16 properties, Ordiequish Road to Fochabers, which itself was closed for several days after a landslip last week, is unsuitable for fire engines and risks cutting farmers off from their land due to the route being too narrow and twisty for large vehicles.
Highlands and Islands MSP Edward Mountain, who is one of the affected residents, explained he and his neighbours have "got on with it" as best they can since the concerns emerged about the bridge on Friday – but urged the repairs to be prioritised to avoid the damage becoming worse.
He said: "There's no way a fire engine would get down the road that has been left open if there's an emergency, so I hope there's no fires.
"It should take a matter of days to rebuild the bridge if you put the resources into it. It's unacceptable that it could take until September 15.
"For the last four days we've just been getting on with it but the council did nothing over the weekend. The first time I saw work done to it was on Monday.
"This is not about me though, there are other farmers who live here who need access to the hill with tractors and there's no way they would get through on the road that's left – it's too narrow and windy."
Mr Mountain explained he expected to have talks with Moray Council representatives today about the situation.
Sandbags were put at the foot of the bridge on Friday in an attempt to protect the crossing before staff took the decision to close it amid safety concerns.
The closure of the bridge has also affected the 37-mile Speyside Way Ultra Marathon, which is due to be held on Saturday, August 24.
Concerns were raised that the event may have to take to woodland in order to be run. However, it is understood an alternative course has been established.
Yesterday Moray Council announced the Delfur Bridge was to be closed with a diversion road of the B9015 Rothes to Mosstodloch road, the A96 Mosstodloch to Fochabers road and Ordiequish Road circulated to emergency services, who have been involved in discussions about the situation.
A spokesman added: "Moray Council has confirmed the emergency closure of the Ordiequish Road at Delfur Bridge near the junction of B9103 Boat O'Brig until Sunday, September 15."