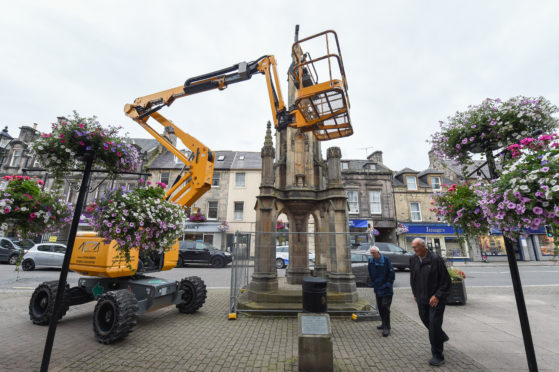 Surveying work has been carried out to appraise how much it would cost to repair an historic landmark in a Moray town.
Workers used a cherry picker to inspect the damage to the Market Cross in Forres' High Street yesterday.
The sandstone sculpture, based on Edinburgh's Scott Monument in Princes Street, has fallen into disrepair over the years at the hands of the weather.
It was fenced off over safety concerns after the latest piece of the ornate decoration fell down.
Local councillor George Alexander had previously sought an estimate for the necessary repair work, prior to the latest damage.
Even then, contractors quoted upwards of £12,000 to restore the cross, built in 1844.
The Forres councillor has said it is important to people in the town to have it fixed and is eager to explore how organisations like The Scottish Town Centre Fund could help with the expense involved.
Mr Alexander said: "The High Street is pretty unique. It is a little like a miniature version of Edinburgh's Royal Mile.
"There used to be a castle at one end and there are little streets coming of it like herring bone.
"It would be a great pity to lose the cross."
The former teacher at the town's academy now heads up the Forres Heritage Trust.
His organisation is in the midst of restoring the Tollbooth, which is just feet away from the cross.
"Once we complete our work, and have the Tollbooth open to the public, I believe it and the Market Cross will be a draw to tourists," he said.
"I think it is a very important feature in our High Street and I have no doubt the people of Forres would like to see it made safe and returned to its normal state."
Graham Hilditch, chairman of Forres Community Council, said: "The cross is one of the most recognisable symbols of the town.
"It would be fantastic to have this important feature back looking its best and with the fencing removed – anything to make a little more of it would be great."
Moray Council is expecting a report on the cost of necessary repairs in the coming weeks.