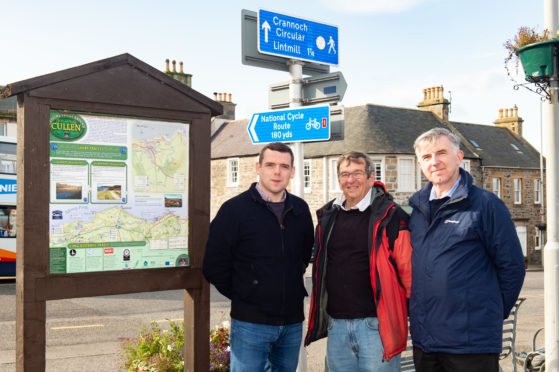 Campaigners in a Moray town have targeted securing an ATM under a new scheme after three years of cash struggles for shoppers, tourists and businesses.
Cullen was until recently served by three banks but has been without any since 2016 since the Bank of Scotland branch shut up.
The blow has left locals facing a six-mile journey to either Buckie or Portsoy to get money from the nearest hole in the wall.
Now community groups are aiming to secure a free-to-use cash point from Link under a new scheme funded by the operator.
Stan Slater, a member of Cullen Community Council, said: "We're a tourist town and a lot of the businesses rely on visitors coming in to make small purchases – ice cream, cafes and gift shops.
"It's disappointing to customers when they can't access cash machines and even more so when you tell them the nearest ones are in Buckie or Portsoy."
Community council chairman Stewart Black added: "Everybody carries a bit of plastic with them these days but for locals it's always handy to have that bit of cash or be able to access it."
Link has established a £1million UK-wide fund to pay for cash points to be set up in areas where the facilities have been withdrawn.
It is expected that the scheme will fund up to 50 locations across the country but more money could be pledged if the scheme is successful.
Community representatives in Cullen are currently drawing up a list of potential locations that would allow 24-hour access to the ATM.
Moray MP Douglas Ross believes that the town fits all the criteria to be eligible for the scheme.
He said: "Community groups are doing all they can to attract people to Cullen to spend money, which is very difficult if they can't get access to cash.
"I've spoken to the national contact for Link, who believes that the town meets a lot of the criteria and has a very strong case for one of the ATMs.
"One of the issues raised has been a security risk for the older generation who are more comfortable with cash and have been taking out larger volumes to store at home because they can't get to cash machines regularly."
Keith and Cullen councillor Donald Gatt added: "The vast majority of people still prefer to carry cash in their pocket. It's what a lot of businesses in Cullen rely on."