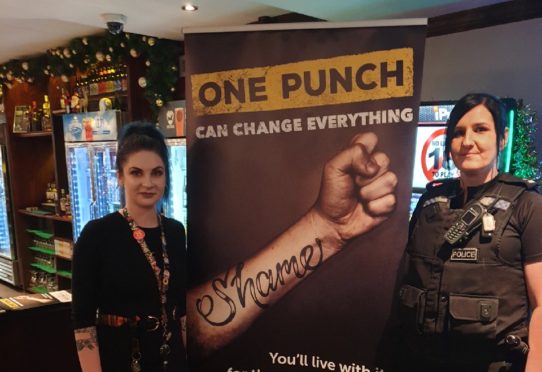 Police have been visiting pubs across Moray to crackdown on violence during the festive period.
Officers want to highlight the consequences of drinking too much, particularly among those who perhaps do not go out often.
They visited a number of pubs around Elgin to promote safe socialising through the One Punch campaign.
Inspector Neil Campbell said: "We want people in the north-east of Scotland to enjoy themselves and feel safe socialising without a threat of violence.  All it takes is one punch and many lives can be turned upside down.
"If you find yourself in a confrontation, always take a breath and walk away."
New police figures have revealed that between April 2017 and March 2018, six people died as a result of a single punch with many more suffering long-term injuries.
Alcohol played a part in four of those incidents.
Insp Campbell added: "As the Christmas office party season commences there will be a significant increase in the amount of people visiting licensed premises across the towns and villages of the north-east and consuming alcohol.
"My advice is to drink sensibly and ensure that you are in control of your senses and avoid any confrontation."
Throughout December, officers will be visiting licenced premises to promote the campaign.
Muckle Cross manager Leigh Ellis backed the effort, and said: "It's an incredibly positive thing.
"It shows that the police are just as committed as we are to preventing incidents like this taking place and it is good for everyone to be aware, especially at this time of year as it gets busier, of what the consequences are if an altercation does take place.
"Last year it was all about promoting the Ask Angela scheme and this year it is the One Punch, so we are more than happy to work alongside police to drive these messages."
Councillor Gordon Cowie, chairman of Moray Council's licensing board, added: "The more we can promote messages like this the better.
"People should be drinking responsibly and seeing the police get out and about like this, 100% I endorse this.
"I would encourage people to get out and to socialise and enjoy themselves, but to do so and to act in a responsible manner."