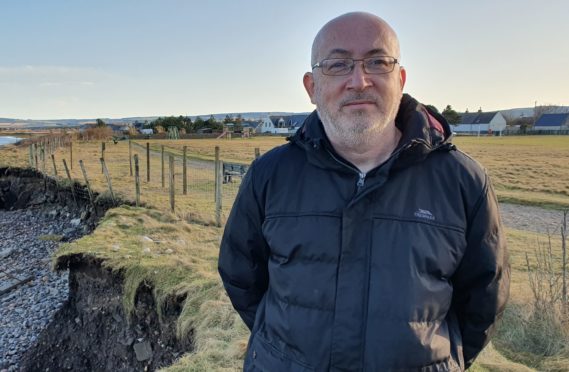 Warnings have been issued for walkers on the Moray coastline to take care amid erosion fears.
Concerns have heightened about the beach near Kingston following significant rainfall and high tides in recent weeks.
Innes Community Council member James Mackie has reported "a hole" in the gravel defences at the site near the mouth of the River Spey.
Now Fochabers Lhanbryde councillor Marc Macrae has warned walkers heading to the shore to take extra precautions to avoid injuries and further damage.
He said: "The situation at the beach has been long-known and the communities of Garmouth and Kingston often face a real worry whenever heavy rainfall is forecast or indeed is combined with a high tide.
"The shoreline continues to erode and only recently I was assured by council officers that heras fencing was being installed near the play area in Kingston where significant chunks of the bank have eroded and fallen away.
"I would encourage anyone walking along the shoreline or indeed parents supervising their children at play to exercise caution and keep away from the edge."
Kingston and Garmouth are among communities regularly affected by flooding fears due to combinations of high tides and raised water levels in the River Spey.
Mr Mackie said: "It's always been an issue at Kingston but in recent years it's just got worse and worse."