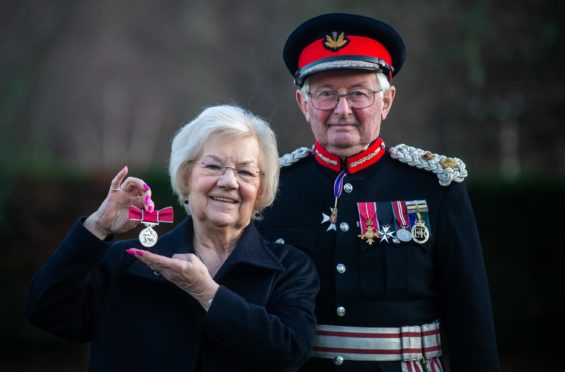 A renowned dance teacher and pillar of the Elgin community has been awarded a British Empire Medal by the Lord Lieutenant.
June Herron gained the accolade at a ceremony held at Lord Lieutenant Grenville Johnston and Mrs Johnston's picturesque Spynie Kirk House in Moray.
He presented Mrs Herron, who is known for her teaching of highland dancing as June Roy, with the BEM on behalf of Her Majesty the Queen while her proud family looked on.
Mrs Herron, who teaches at the June Roy School of Dance in Elgin, was the recipient of the award for her skill and perseverance in training champion dancers and her prodigious fundraising efforts for several charities in the community.
Queen's Birthday Honours: Two Moray dancing stalwarts honoured for their work
Vice Lord Lieutenant Mr James Royan gave a brief speech before she was adorned with the medal embellished with her name, which was a fitting tribute to the love of traditional dancing and community spirit that Mrs Herron has embodied throughout her stellar career and life in Moray.
Mr Royan, whose daughter was taught by Mrs Herron, described her as being "part of the landscape of Elgin for many decades.
"For her efforts to be recognised in this way is really important because she has touched a lot of lives, both at home and abroad."
Since 1957, Mrs Herron has been acclaimed for her teaching of highland dancing and has taken students to competitions such as the World Highland Games Championships.
She has also raised thousands of pounds for local good causes through her regular shows at Elgin Town Hall, which always attract a full house.
This has resulted in investments to benefit the wellbeing of residents of Anderson's Care Home, St Giles receiving new flooring and the Elgin Rotary Club awarding her a community service award last year.
Mr Johnston, who is due to retire in the new year, said he was delighted and proud that his final British Empire Medal presentation was to Mrs Herron at his home.
He added: "Tthe number of people you hear about who have been taught by her is legion, but she has done more than that, she has spread the dancing of Scotland all over the world and for this, but particularly for her work in Moray, she's been awarded the British Empire Medal."
Mrs Herron, who was greatly touched by the ceremony, humbly dedicated her medal to her beloved community.
She said: "It's just wonderful. I've been so lucky that I've been doing a job that I love and have a very supportive family.
"I can only thank the people of Moray for their support they've given me since I started and I feel I've been able to give a little back through dancing."