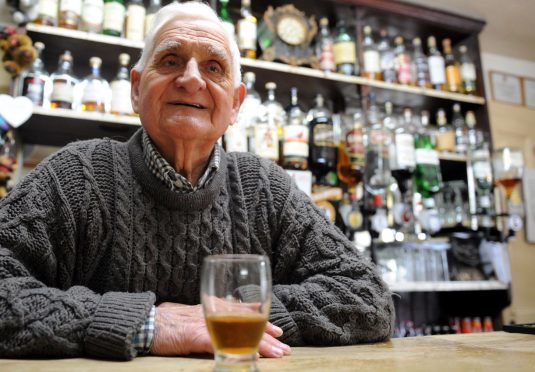 A tiny Speyside bar that is famed across the world – despite its size – is poised to reopen today after being closed for more than two years.
Previous landlord Joe Brandie served drinks at Craigellachie's Fiddichside Inn for nearly 60 years until his death in 2017.
Many hoped the bar the "legendary" publican also called home would continue to offer a warm welcome to countless overseas visitors following his death.
Now new owners Ali Hunter and her son Guy will open the doors for the first time today and have vowed to keep the spirit of the cosy haunt the same with some small modern updates.
Miss Hunter, who previously worked in property before moving to Moray from the south of England three years ago, said: "We're not going to change anything, apart from having central heating. There will still be the same rules about no music and no phones.
"We want to carry on the legacy of the place and keep it as Joe had it, but not turn it into a shrine for him."
She added: "It's unbelievable how well known it is. The first Christmas card we got was from Japan. We've had people knocking on the door from France and Germany asking if we're reopening.
"It's a local's local but with an international reputation. It's really amazing. Everybody in the village has been so supportive too."
The small inn, which is on the banks of the River Fiddich, has proved popular with tourists stopping in the village from across the world for decades.
Postcards of the picturesque pub sold more than 500 copies a year during Mr Brandie's time with visitors eager to take home memories of their visit to the bar.
Miss Hunter intends to convert the former home in the property into a holiday let to allow some to stay closer to the pub without having the dilemma of arranging transport.
She added: "We're going to be open just Fridays, Saturdays and Sundays in January and take it from there.
"It's probably going to be a comedy of errors at the start but it's going to be an adventure for us. People wanted to see it reopened so we've gone for it.
"In the long-term we want to hold events like barbecues when the weather is nice."