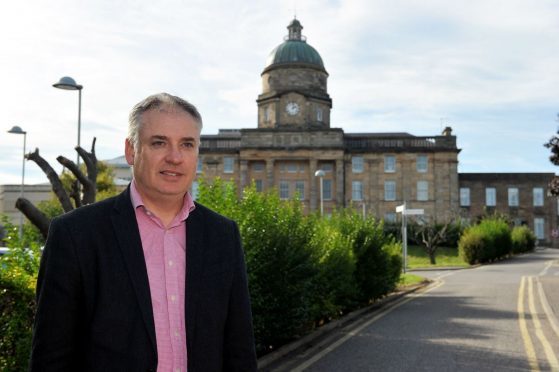 Health bosses in Moray have been pressed to provide updates on when the region's biggest hospital can be restored to full strength.
Maternity arrangements at Dr Gray's were downgraded in July 2018 amid a staff crisis that caused services to be unsustainable – resulting in trips to Aberdeen and Inverness for mothers to give birth.
Management are aiming to bring back consultant-led care on the ward in April, but NHS Grampian has warned the ambition is becoming a "growing challenge" due to the proposed staffing model relying on other departments to operate.
It is understood that issues surrounding the anaesthetic service has proved a stumbling block in implementing changes.
Yesterday NHS Grampian said safe care must be a priority when considering the restoration of services Elgin unit.
However, Moray MSP Richard Lochhead stressed residents deserved to know what steps are being taken to implement the second part of a Scottish Government-approved plan to strengthen the hospital to make it less reliant on the recruitment of junior doctors.
He said: "The months are flying by and the date for the implementation of phase two will have come and gone before we know it.
"It's therefore important for the local community to know what steps are being taken to plug the gap in the anaesthetic provision at Dr Gray's, which we were informed is the latest stumbling block to getting the full maternity service back up and running again.
"It is important that the public can retain confidence in the plan to restore the obstetrics and paediatrics service at Dr Gray's but it is regrettable that we have gone from a shortage of trainee doctors being the key issue to there now being several obstacles."
Mr Lochhead praised staff at the hospital but stressed too many families are still being expected to travel to Aberdeen to welcome new arrivals.
A NHS Grampian spokeswoman said: "Our public representatives and other stakeholders are key partners in the production of the plans for services in Dr Gray's and have always been included in open discussion about staffing challenges we face at the hospital.
"Safe care must be a priority for us and we continue to work hard on a long term solution to the staffing problems.
"The hospital remains an option for low risk, non-caesarean, midwife-led care. However, for the safety of both mother and baby, more complex deliveries must take place in Aberdeen."