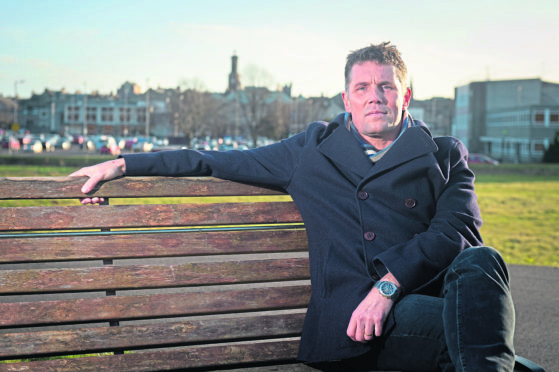 Standing on the sidelines of pitches often coated in shards of broken glass, dog mess and even needles that have to be cleaned before their children could play football, Dave Allen and fellow exasperated parents decided action had to be taken.
It was three years ago that he'd enlisted the help of like-minded mums and dads to launch the Elgin Sports Community Trust with the aim of improving facilities for people who want to lead an active lifestyle as well as their own sporty youngsters.
Now they are pushing ahead what will be their flagship project – an effort to transform the barren Lesser Borough Briggs field in Elgin from an unsafe and unsightly mass of grass into an all-weather, multipurpose astro-pitch for everyone in the community to utilise.
Mr Allen, who lived in Moray for 30 years, has dedicated two years to developing a robust business case and has now submitted a community asset transfer request to Moray Council.
He hopes to secure the common good land for the charity and has proposed leasing the land annually, for the long-term.
The authority received the application on January 13 and a 20-day open public consultation is now underway.
Residents are being invited to submit their backing – or objections – to the council.
Mr Allen, a father of three sport-loving sons and chairman of the charity, said: "We are obviously hoping we got lots of letters of support.
"It has already triggered a real positive feeling among the community.
"I've received hundreds of supportive messages, likes on social media, great turnouts at meetings and encouragement from people, including local councillors, MSP Richard Lochhead and MP Douglas Ross, which shows the community is behind the facility."
The trust recently announced that Volkerfitzpatrick and Mott MacDonald are two companies who have also pledged their support by offering to help build the pitch free of charge.
A multi-purpose pitch at Lesser Borough Briggs, which is situated beside Elgin City Football club – which has been extremely supportive of the trust's proposals – would provide sports teams, children and residents with a safe and accessible place to play.
If Moray Council grants them the land to lease, Elgin Sports Community trust will re-invest the profits from renting out the pitch into funding other positive improvements for the area.
Mr Allen and his team of trustees at the charity are hopeful that with the support of the community in the coming days that their plans for the pitch will go ahead and thrive for years to come.
Mr Allen added: "I'm really optimistic that the council will see that this is a great thing for Elgin.
"It will benefit the community in terms of social, health, economic and regeneration opportunities as well as setting a good example of community spirit."