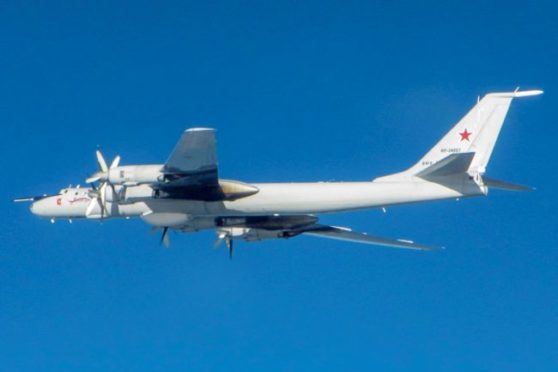 Two fighter jets were scrambled from RAF Lossiemouth this morning after "hazard" Russian aircraft were spotted in British airspace.
The air force deployed the pair of Typhoons in a Quick Reaction Alert (QRA) at around 8.10am.
Two Russian Tu-142 Bear Maritime Patrol Aircraft bombers – known as Russian Bears – were monitored by the Moray jets, before they headed towards the Bay of Biscay, where French aircraft monitored until they returned north.
A Voyager tanker, the air-to-air refuelling aircraft from RAF Brize Norton in Oxfordshire, was deployed to support the mission.
One of the QRA pilots from RAF Lossiemouth, today said: "This was my first time intercepting Russian long range aviation and everything ran on rails.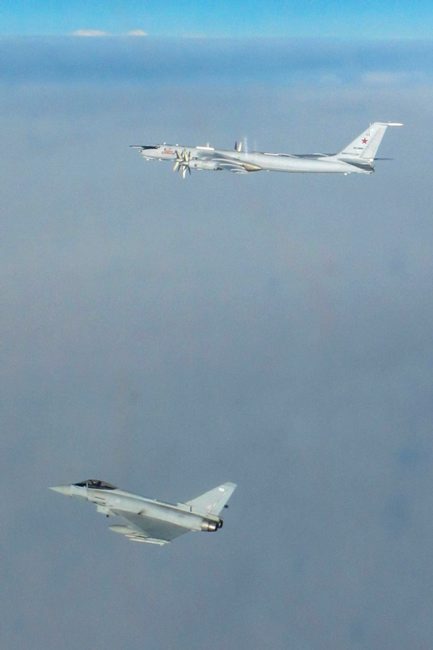 "Our first intercept occurred to the west of the Shetland Islands, where we shadowed the two Russian Tu-142 Bear-F aircraft as they tracked south.
"Subsequently the two Russian Bears continued to track south towards the Bay of Biscay, where they were met by French QRA.
"We intercepted the Bears as they turned back north, before we handed them off to additional QRA Typhoons, again launched from RAF Lossiemouth."
⭐ Another successful mission by #TeamLossie.

Activity such as today and Saturday show that we are always ready to scramble at a moment's notice, #SecuringTheSkies of the UK with our @NATO partners.

7/7 #QRA pic.twitter.com/SzEfQTlv4f

— RAF Lossiemouth (@RAFLossiemouth) March 11, 2020
Air Chief Marshal Mike Wigston, chief of the Air Staff, added: "These Russian bombers do not comply with international air traffic rules, are a hazard to airliners and are not welcome in our airspace.
"RAF Typhoons, alongside our NATO allies, ensured these Russian aircraft posed no hazard."
It comes just four days after six Typhoons, including a pair from Moray, were deployed to intercept a Russian aircraft after it tried to enter British airspace.
Two pairs of Typhoons approached the aircraft, while a third pair forced them to "change course."
One of the aircraft was later confirmed as a Tupolev Tu-95 Bear, which is used both as a strategic bomber and long-range maritime patrol plane.