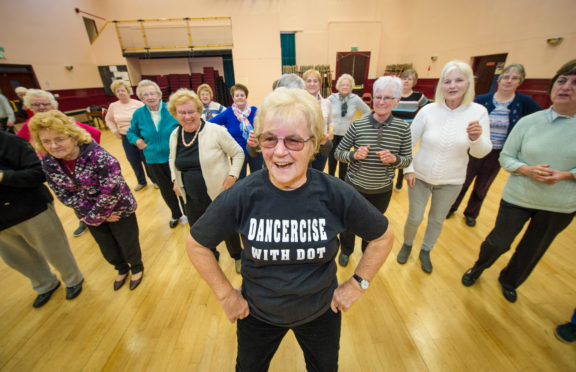 An 81-year-old who runs dance classes across Moray has shared tips on how pensioners can boogie their way into keeping in shape during the lockdown.
Grandmother Dot Bremner returned to the classroom six years ago to qualify as a fitness instructor and ran sessions almost every day to keep older residents in shape before the virus outbreak.
Yesterday the Elgin resident, who is completely deaf without a hearing aid and is partially sighted, announced the last year of running her own brand of "dancercise" at Ball (Be Active Life Long) groups has raised £2,030 for charity North East Sensory Services (Ness).
However, the passionate fitness enthusiast, whose regular workouts include the coach potato Highland Fling, the canny Can-Can and the cheating Charleston has not let the lockdown get in the way of her mission.
Mrs Bremner has devised her own range of housebound exercises and has taken her first steps into social media to share them.
The workouts, which are being shared through the Moray Ball Groups Facebook site, include stretches that can be done while lying down.
And Mrs Bremner, who has danced from a young age, has also created a musical routine to the tune of Que Sera, Sera that helps time leg stretches.
She said: "I believe that exercise is not only important for physical wellbeing, it also helps mental wellbeing.
"So keeping moving keeps the spirits up. Many over 60s in Moray are really missing their Ball groups.
"Because of the coronavirus I've made my first venture on to social media. It's a great way of keeping in touch and exchanged jokes with many Ball group members.
"We're never too old to learn a new skill."
Mrs Bremner's latest donation to Ness means her classes have now raised about £5,000 in the last two years for the charity, which aims to support those with sensory losses to maintain their independence.
Meanwhile, residents in Findhorn and Kinloss want people across the country to join in their own fitness challenges on what would have been the day of the London Marathon on April 26.
Liam Richardson, who is a GP, and social worker Elaine Macdonald both had endurance events cancelled due to the lockdown.
However, they have joined with yoga teacher Chelle Parker and osteopath Bryony Richardson to launch a movement marathon challenge to raise funds for the NHS Charities Covid-19 Urgent Appeal.
Mrs Richardson said: "We wanted it to be fully inclusive so it's really any kind of movement to match people's own abilities- running, dancing, cycling, cartwheeling, walking, yoga or anything else.
"We're inviting people to join us in their own locations for as long as they can with a focus on staying safe and healthy."
Donation can be made to support the movement marathon online by searching for "lockdown movement marathon" on Virgin Money Giving.