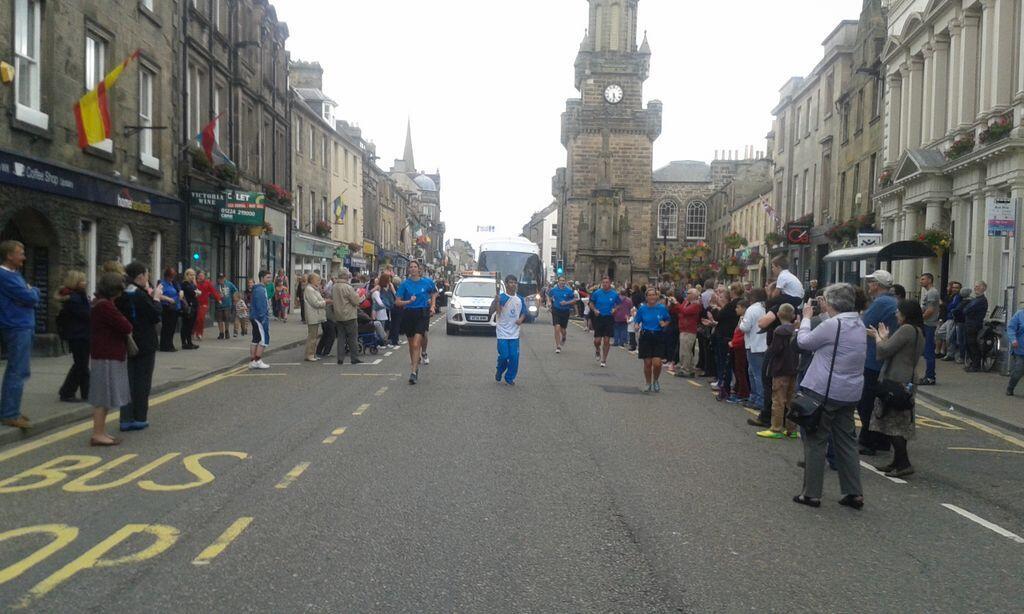 A man was in police custody last night for attempting to grab the Queen's Commonwealth Games baton as it passed through Moray.
The 44-year-old rushed out and tried to seize it as it was being carried through Forres.
A police spokesman said: "A man has been arrested after the Queen's baton parade was disrupted in Moray .
"He has been detained in police custody in connection with an incident in High Street, Forres, around 5.30pm.
"The incident had no impact on the carrying of the baton by the baton bearer and no impact on the event."
Councillor George Alexander, who represents Forres on Moray Council, said: "The man came out of a pub and had a go at trying the grab the baton.
"The police dealt with it so quickly, I don't think many people even realised what had happened."
The disruption did nothing to spoil the enjoyment of the many thousands who turned out to see the baton carried through the region.
Indeed, if the scenes in Moray are anything to go by the Commonwealth Games are going to be a stunning success.
With less than three weeks to go until the opening ceremony in Glasgow, upwards of 10,000 people turned out yesterday.
The day began in dramatic style with the baton being flown in a Sea King from RAF Lossiemouth, where it had stayed overnight, to Buckie.
From the helicopter it was winched down to the town's lifeboat below and brought onto land just before 9am.
Carl Cowie, who has been a member of the volunteer crew for the last 10 years, had the duty of carrying it ashore.
He said: "This was a great honour, not only for me personally but for the crew as a whole and the RNLI.
"It's something I'll never have the chance to do again and is the sort of thing you'll never forget no matter how long you live."
Taking it in turns to carry the baton through the region were nearly one hundred people from right across Moray – all specifically chosen because they had a story to tell.
Peter Robertson, who ran with the baton through his hometown of Forres, was carrying on a family tradition.
His son – also called Peter – was a baton bearer in 1986 when the Commonwealth Games were last held in Scotland.
The 73-year-old, who is still cycling competitively and recently picked up a silver medal at the British Masters, said: "I'm amazed how many people have turned out. Absolutely amazed. It's fabulous to see so much enthusiasm."
The baton was greeted with incredible scenes everywhere it stopped in Moray, with the streets of Cullen, Fochabers, Mosstodloch, Lhanbryde all packed with large crowds.
As the baton made in its way into Lossiemouth, hordes of youngsters stood crammed at the side of the road cheering.
One particularly excited group of Saltire-waving children from Hythehill Primary School struck up a noisy chant of "baton", followed by an even louder one of "Scotland".
Carrying the baton through his hometown was Frazer Bushell, a 16-year-old student at Lossiemouth High School, who was chosen by his fellow pupils because of the amount of voluntary work he does.
He said: "It was a real honour. I absolutely loved very moment of it."
Similar scenes of excitement were also to be seen at Hopeman and Kinloss.
Finally, shortly after 6.30pm, the baton made its way into Cooper Park in Elgin, in which a special concert was staged in front of a massive crowd of between 3,000 and 4,000.
Donald McIntosh, a stalwart of Scottish shooting who served as head rifle coach for Team GB at the 2012 London Olympics, was the final baton bearer of a memorable day.
The baton left Moray early today after visiting Rothes for a breakfast event at 8am in Seafield Square.
It then went on through to Aberlour at 8.20am, with stops at the village's distillery and the Walker's factory.