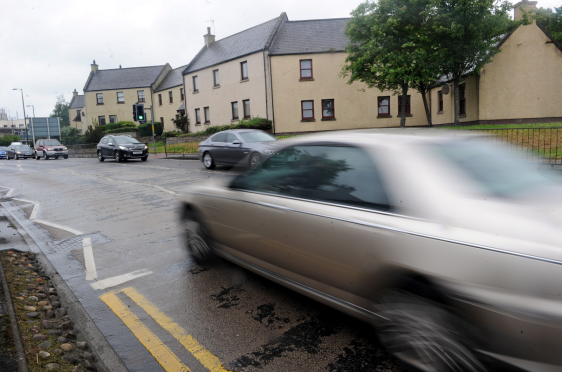 A group of Elgin residents claim they have to wear ear plugs at night to drown out noise from "boy racers".
Those living on Murdoch's Wynd say backfiring exhausts, loud revving of engines and speeding have been making their lives a misery.
Police are now carrying out extra patrols in the area to monitor drivers after the issue was highlighted by Moray MSP Richard Lochhead.
Living rooms on the street look onto the busy A96 with noise from modified cars keeping households up through the night.
One resident said: "It's worse than fireworks. We've got double glazing and when we got to bed at night we've got to have ear plugs in, it's that bad.
"Since the price of fuel dropped at Christmas there has just been more and more of them every night. We used to have big lorries driving past the house. They never used to bother us, this is far worse."
This week locals reported seeing the cars driving on the A96, turning down the High Street before returning to Alexandra Road after doing a loop. Revving noises from nearby car parks also cause annoyance during the night.
Another resident on the street said: "I'm usually at work until 1am or 2am and you can still hear them driving past then once I'm home."
The problem has been raised regularly with Mr Lochhead at recent surgeries he has had with residents.
The MSP has now written to Chief Inspector Stewart Mackie, area commander for Moray, on behalf of locals about the "boy racers".
He said: "Young drivers in souped-up cars are making life a misery at times for residents living in the centre of Elgin. While I am sure that most of the drivers involved are unaware of the problems they cause for local residents, it is certainly a problem when people are deprived of peace in their homes and a good night's sleep."
Police are urging residents to report loud drivers to officers by phoning 101 they can target the right areas at the right time.
Ch Insp Mackie said: "I understand the frustrations that incidents of antisocial driving can create for local people and can assure the public that two of our top priorities are addressing anti-social behaviour and increasing road safety."