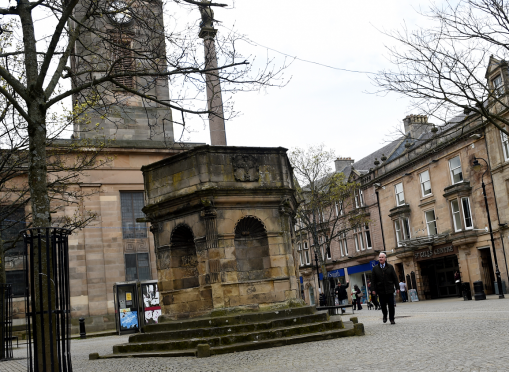 An urgent repair list to prevent a Moray town centre landmark becoming a "ruin" has been published.
Elgin's crumbling Muckle Cross needs £50,000 of maintenance to protect it from further decay.
A repair list has now been submitted to Moray Council for approval to give the 19th century grade B-listed landmark a facelift.
Elgin City South councillor Graham Leadbitter praised the financial commitment to preserve one of the most iconic buildings in the town.
He said: "The Muckle Cross is one of the most important parts of Elgin's heritage. It makes sense to carry out a proper restoration when we have access to grant funding.
"It used to be the focal point for market trading in the town and it is still very much a focal point and a tourist attraction with tourists frequently taking photographs there.
"With it being made of sandstone it's at risk of showing wear and tear over the years. Getting it back to looking its best will ensure it's still there for years to come."
The local authority is putting forward £20,000 for the project, which has been matched by the Elgin Conservation and
Regeneration scheme, with the remaining £15,000 coming from the town's common good fund.
A repair list compiled by architect Leslie Hunt includes replacing broken water spouts that have been broken off, repairing the chipped stonework and restaining the faded door. The floor of the balcony will also be realigned and the staircase handrail
will be rubbed down and repainted.
A report submitted to the local authority explains the restoration will halt the deterioration into a "ruin".
Although the current Muckle Cross was built in 1882, the historic trading post's roots date back to the 12th century. The original building was demolished in 1792 to make way for new buildings before the replacement was built nearly 100 years later – with the lion at the top of the granite column the only feature retained.
As well as being the centre of Elgin's bustling market the town crier also climbed to the top of the now-rusting spiral staircase inside to make announcements.