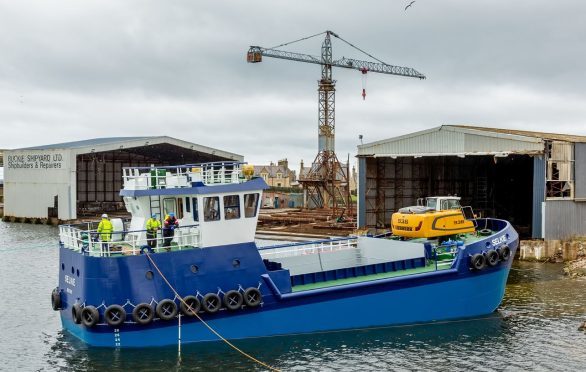 Moray Council has claimed its £2.5million dredger satisfied all expectations during 2016 – despite being berthed for months because of a staffing crisis.
Last year, the machine's schedule was thrown into turmoil by the resignation of a crew member, which prevented the vessel from taking to sea.
Instead, it had to spend months at Buckie Harbour while the local authority attempted to fully staff the boat.
The authority has now published detailed figures revealing the amount of silt and sand the MV Selkie scooped from the bottom of the area's harbours since it was launched last May.
And transport bosses said the unexpected break in its activities had "no material impact" on the amount of work it was able to carry out.
Transportation manager, Nicola Moss, has compiled a report which will be discussed by the council's audit and scrutiny committee on Wednesday.
It states the MV Selkie dredged 12,990 tonnes of material from Moray Council's six harbours since June 2016.
An estimated 9,000 tonnes was removed from Burghead due to an accumulation of sand across the harbour entrance there.
Ms Moss added the gritty buildup had caused "safety issues" for the village's fishing fleet.
More than 3,000 tonnes of material was removed from Buckie harbour, mainly around the cargo berths on piers one and two.
The council has conceded that the dredger's inactivity, while a replacement crew member was being sought, "highlighted a resilience issue that needs addressing for the future".
But Ms Moss insisted the authority was working on ways to resolve that problem.
She said: "This ship's master has been scoping out a standby role which can be fulfilled by existing harbour staff.
"This will require training and a competence assessment, the scope and content of which is currently being planned.
"This will provide a level of resilience for basic operations and avoid unnecessary additional staffing costs in a variety of circumstances."
The 90ft craft completed 13 days of work at harbours in Hopeman, Cullen, Buckie and Portknockie during January.
It is scheduled to spend six days clearing the seabed of debris at Burghead this month, and a further nine at the port in Findochty.
The authority aims for the MV Selkie to remove 6,000 tonnes of silt from its leisure harbours by April.