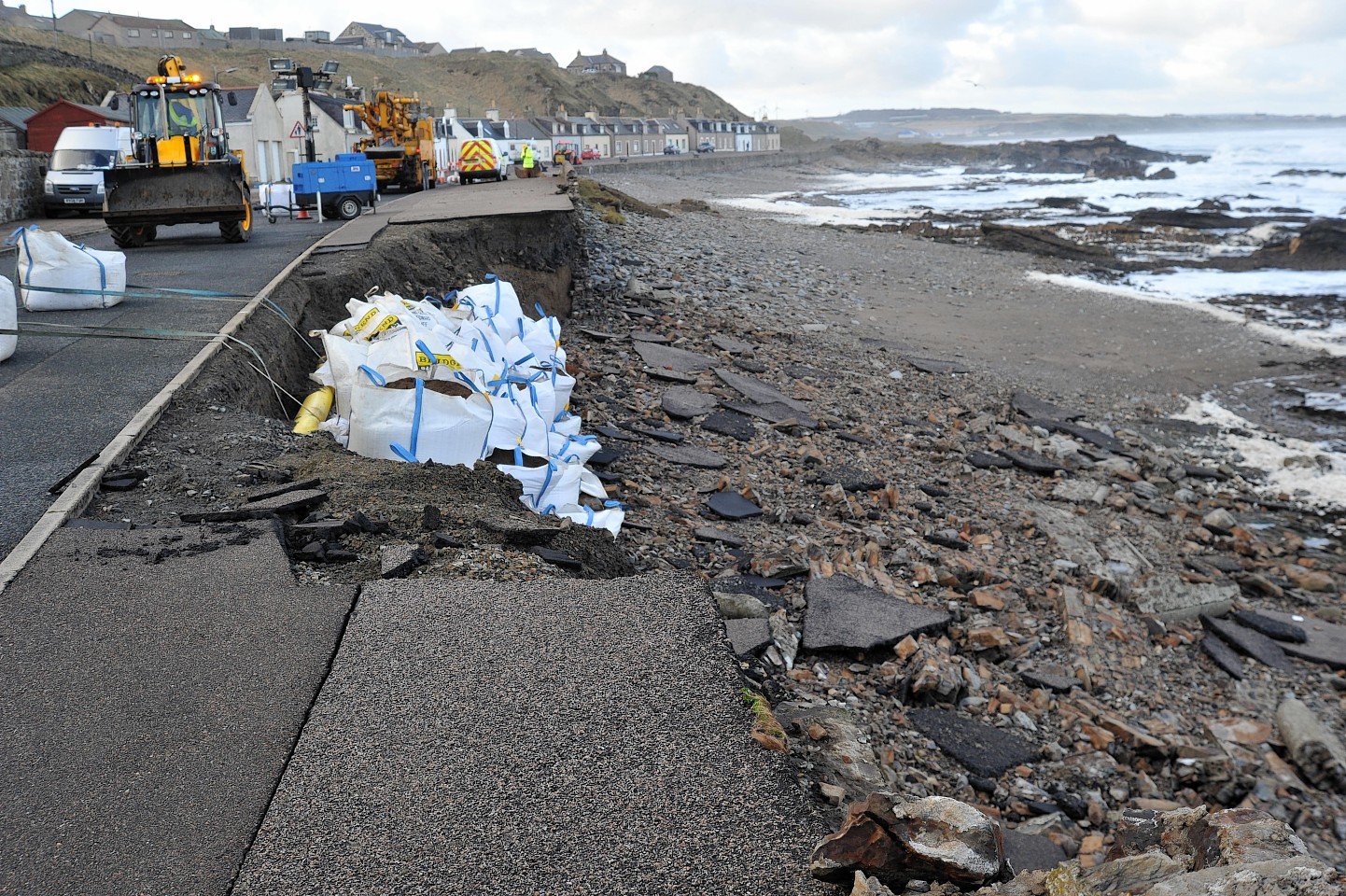 Aberdeenshire Council is to spend £250,000 repairing a north-east sea front devastated by storms two years ago.
Harsh weather in December 2013 tore down a section of sea wall at Scotsown, near Banff, exposing a gas main and leaving the site exposed to the elements.
Temporary repairs involving several one-tonne bulk bags filled with concrete were put in place to shore up a nearby road, and Scottish Gas were able to move the gas main.
Earlier this year local councillors backed a rolling programme of repair work and handed the council's landscape team the power to approve tenders for the project.
Now the local authority has issued a public notice, inviting tenders for a £250,000 contract to repair a 130ft stretch of the seawall.
Last night local area committee chairman councillor John Cox said: "I'm glad to see there is progress because it has been slow and the report came to committee some time ago.
"Hopefully the next stage speeds up significantly because there has beena lot of concern in the area, certainly from the residents who want to see the wall reinstated.
"It is a step forward – and I appreciate there has been work going on in the background – but that's two years now."
Tourism chiefs have also praised the progress on the repairs.
Banffshire Coast Tourism Partnership chairman Roger Goodyear said: "The principle is very important. The maintenance of the coast is crucial and it's very good to see the council taking that on.
"The coast is our big draw, and anything that affects it is of concern."
In July, Aberdeenshire Council's infrastructure chief Stephen Archer strongly advised members of the Banff and Buchan area committee to back proposals to spend up to £1million over the next four years to repair and strengthen Scotstown's seafront.
Mr Archer added by advertising through the Public Contracts for Scotland website, the council would get the best "value for money" on the vital repair work.
Money is already available as part of the £24million harbours, coasts and flooding fund agreed in the council's capital plan earlier this year.
The closing date for tenders is January 27, 2016, and it is understood a final decision will be made in early February.