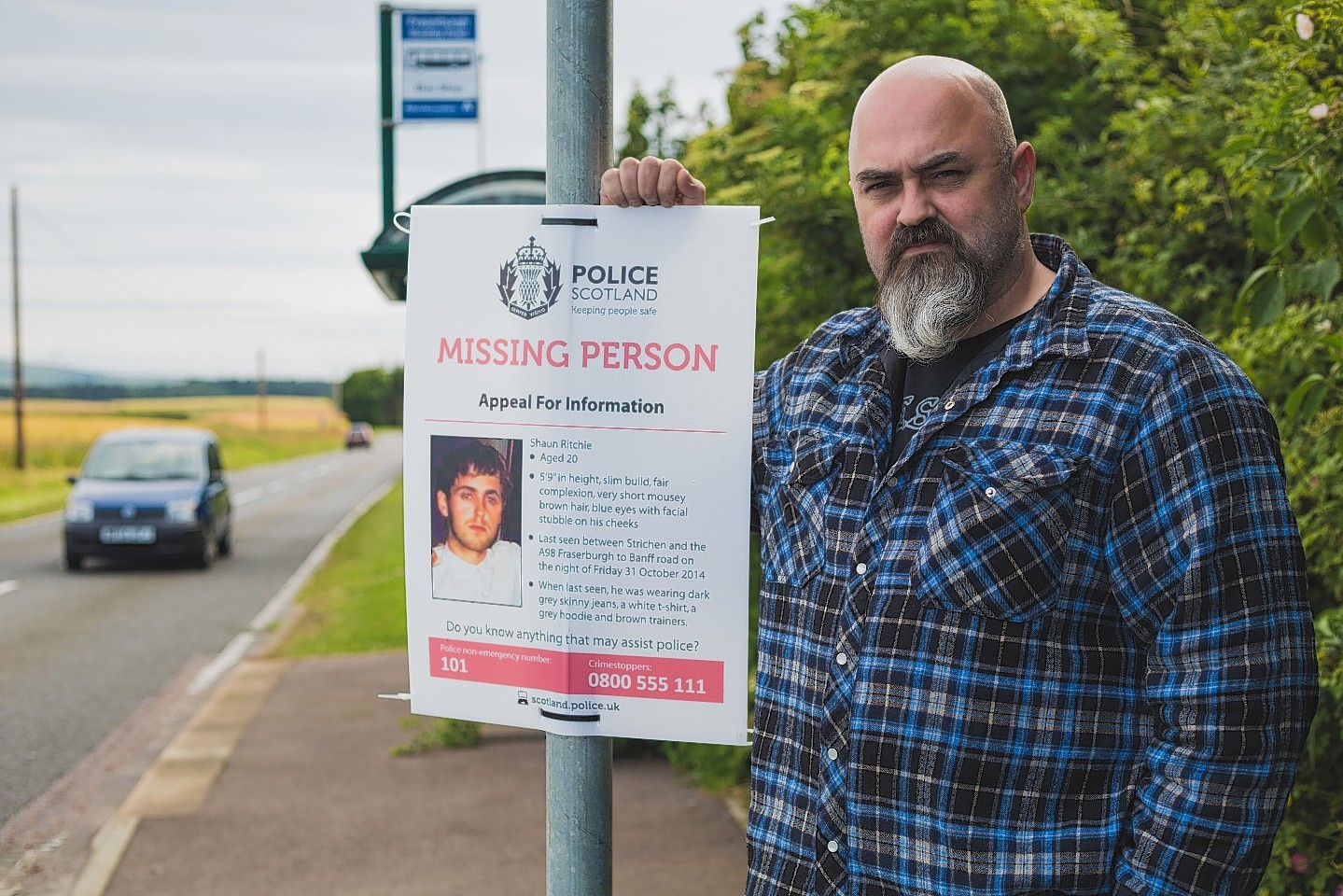 The father of missing Fraserburgh man Shaun Ritchie has put up posters of his son at each of the town's exit roads to "prick the conscience" of anyone who has information about his disappearance.
Shaun, 20, was last seen on a night out with friends near Strichen on Halloween last year.
Despite extensive searches of woodland near where items of his clothing were discovered, police had yet to make a breakthrough on the case.
Last night, Charlie Reid, 41, again urged anyone who may have information that leads to the recovery of his son to come forward.
The 41-year-old has also offered a £5,000 cash reward for any information that helps to establish what happened to his son.
Last night, Mr Reid said he had pinned large-print posters on each of Fraserburgh's exit roads to keep Shaun in people's minds.
From his home in Tyrie, the off-shore worker said: "If there is anyone out there who has information, I'm really hoping that these five roads coming in and out of Fraserburgh being covered by posters will prick their conscience for them to come forward to the police."
His appeal comes after a volunteer search team from Glasgow retraced police officers' steps at farmland where his son was last known to have been seen.
The volunteers used a specialist human remains dog to search, but failed to uncover any new clues.
Shaun's mother has previously revealed she made contact with psychics in an attempt to find out what happened to her son.
Carol-Ann Roy was told by one that Shaun was "in the area" as search teams waded through bog-laden Greenburn, and claimed they would have found him if they had searched more thoroughly.
Police have also recruited two specialist soil experts to test the search area.
Officers were joined by Professor Lorna Dawson, head of forensic soil science at the James Hutton Institute in Aberdeen and Dr Alastair Ruffell, a forensic geoscientist in the school of geography, archaeology and palaeoecology at Queen's University, Belfast, last month.
Although no significant new leads were picked up during the soil analysis, the findings was said to have given the investigating team fresh impetus.
Mr Reid added: "I get updates on a weekly basis from the police, and as far as I know they're still searching."