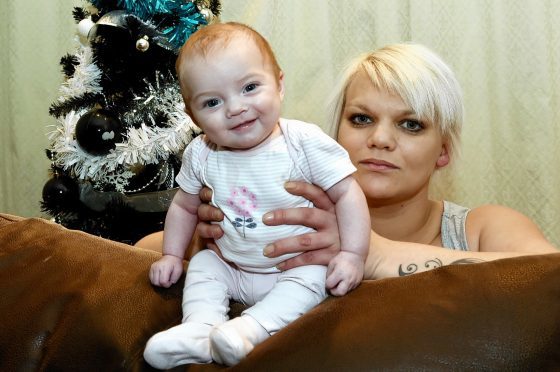 The aunt of tragic Shaun Ritchie is facing being made homeless with her young family just days before Christmas after her landlord put her home up for sale.
Mum Jenna Wilson, who has a 12-week-old daughter Ava, said she is being forced to move into temporary B&B accommodation in Fraserburgh today after being given formal notice to quit the home.
The property she is leaving is owned by Alistair Greig, the owner of a failed financial services firm, which has been probed by police over a massive fraud scheme.
Ms Wilson was warned only recently that the large home in the upmarket hamlet of Cairnbulg, near Fraserburgh, was set to be sold after its owners became embroiled in divorce and insolvency proceedings.
Ms Wilson, whose sister Carol-Ann Ritchie is mother of missing 21-year old, Shaun, now faces moving into temporary accommodation before a permanent home is found.
It will be the 12th time the family has moved in the last four years and Ms Wilson says she's "desperate" for some stability.
She said: "I got a notice to quit from the solicitor and I have to leave the property on December 18."
But the cash-strapped Aberdeenshire Council, which has 9,000 homeless people registered on their books waiting for accommodation, told her they had no choice but to move her, her baby and her 13-year-old daughter into the B&B.
Ms Wilson responded: "I am not fussy where I lay my head but I'm worried about my baby. Last time I was in there, there was mould on the walls."
She said the council told her it could take "days, weeks or months" to be allocated a permanent home for the family.
"It's just mind-boggling. It is upheaval again.
"I've had to move 11 times since 2011 and I just want to get settled.
"I don't have stability for my kids. How can I have stability if my life is not stable?
"My sister and I have each other, but I can't put this on her.
"You just think how much can you take?"
The home where the family has been staying is listed as the correspondence address of Mr Greig and his wife who are currently involved in divorce proceedings. The property is also listed as the headquarters of Mr Greig's property firm which was put into administration last month.
Mr Greig was the largest shareholder and a co-founder of the wealth management firm Midas Financial Solutions, which is at the centre of a large-scale fraud investigation. It is thought up to 180 investors lost an estimated £9million in the scheme.
In September, Police Scotland arrested a 61-year-old man in relation to the investigation, but the force has not yet submitted its report to the procurator fiscal.