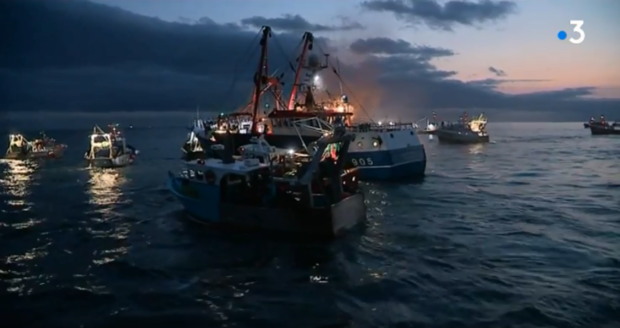 The owner of a north-east fishing boat caught up in a violent dispute over shellfish yesterday called for armed Royal Navy ships to be drafted in to protect British fishermen while out at sea.
French fishermen threw rocks, flares and bolts at UK vessels as they attempted to fish for scallops in the English Channel in the early hours of Tuesday morning.
Between 35 to 40 French ships encircled roughly a dozen British boats, including small vessels, in the Baie de Seine, off the coast of Normandy in northern France.
Several British trawlers were damaged as a result of the confrontation.
A video showed Peterhead-registered boat Honeybourne III being rammed by another vessel and one of the boats was left with a broken wheelhouse window and fire damage.
The row erupted as a result of tensions rising after talks breaking down without a deal in place over fishing in the area this year.
France currently bans all scallop dredging between May 15 and October 1, however, Britain allows its vessels to operate all year round.
A deal known as the Baie de Seine agreement usually exists between the scallop sectors in the UK and France that stops British boats measuring more than 15 metres from fishing scallops in the bay during the summer period.
French fishermen have accused the British of depleting stocks and want them to face the same rules.
Georgia Dawn, a vessel owned by Fraserburgh-based Whitelink Seafoods, came away from the clashes unscathed on Tuesday.
But one of the company's directors is now demanding that the Royal Navy intervenes so crews are protected from any further potential violence in the English Channel.
His calls came as French authorities said they were prepared to send police boats to stop further clashes.
Graeme Sutherland, one of the directors at Whitelink Seafoods, has been in touch with the crew on board the Georgia Dawn.
He said: "The reality is it must have been a very scary situation.
"As long as we are fishing according to the law, which we are doing, we should be protected and entitled to do it.
"The French authorities should be controlling their own people, but if they can't do it we should be protected by the Navy.
"If they are going to be unwilling to control their own then surely our government should be protecting us.
"We are just trying to go about our jobs and these guys are getting threats and everything thrown at them.
"Throwing things out at sea is a different game all together.  You just escalate everything right up.
"It is a very, very dangerous situation."
UK environment secretary Michael Gove said it was the responsibility of the French authorities to make sure crews from the north-east and around the British Isles did not come under attack.
He said: "My heart goes out to the British fishermen who were caught up in the terrible scenes that we saw happen earlier this week.
"They were fishing entirely legally, they had every right to be in those waters and we talked to the French authorities in order to ensure that we have a protocol.
"These are French waters – it's the responsibility of the French to ensure that those who have a legal right to fish can continue to fish uninterrupted."
The Georgia Dawn and Honeybourne III were the two Scottish boats caught up in clashes on the water.
Last night, Bertie Armstrong, chief executive of the Scottish Fishermen's Federation, called for "calm" from both sides involved in the dispute.
He said: "This is a time for calm, for rational discussion and peaceful resolution, not conflict at sea.
"As control over access and fisheries resource changes in the next few years, it will be imperative that the rules are agreed, accepted and, where necessary, enforced."
A Scottish Government spokesman echoed Mr Armstrong's calls for talks to resume.
He said the issues should be "dealt with as a matter of urgency" and urged everyone to reach an agreement.