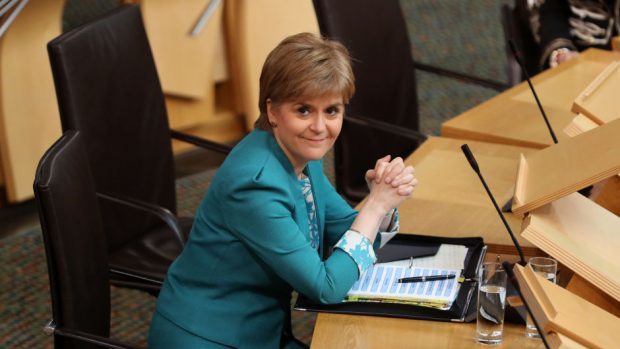 Green energy schemes, an income tax review and a plan to tackle homelessness were among the key features of Nicola Sturgeon's "fresh, bold and ambitious" programme for government.
Unveiling the SNP's plans, the first minister said she was determined to invest in Scotland's future growth and revealed 16 new bills she hopes to get through Holyrood in 2017-18.
Ms Sturgeon confirmed an education bill would be the centrepiece of the legislative programme for the year ahead, which she argued showed her commitment to closing the poverty-related attainment gap.
Clean energy promises will have a big impact in the north of Scotland, with funding announced for a carbon capture and storage (CCS) feasibility study at St Fergus in Aberdeenshire.
A low emission zone has been proposed for Scotland's four largest cities – Glasgow, Edinburgh, Aberdeen and Dundee – in addition to plans for Scotland's first fully electric-enabled highway to be set up along the A9.
The Green Bus fund will be expanded, following the success of Aberdeen's pioneering hydrogen bus scheme, and a public sector bid for the next Scotrail franchise will be brought forward.
The first minister confirmed she will lift the 1% public sector pay cap, will take forward initial steps recommended by the Barclay review of business rates, outlined plans for a Scottish National Investment Bank, and also for a statutory target for the reduction of fuel poverty.
Reforms in health include a ban on junk food advertising and a roll-out of the free tampon scheme to tackle period poverty, which was pioneered in Aberdeen.
Justice reforms include support for Highlands and Islands Green MSP John Finnie's plans to ban smacking, automatic pardons of convictions for homosexual activity, a presumption against jail sentences of under a year and a new criminal offence of drug-driving to be introduced.
Ms Sturgeon said her plans were "fresh, bold and ambitious", particularly the new investment for research and development.
She said: "To succeed, Scotland must lead change, not trail in its wake.
"We must aspire to be the inventor and the manufacturer of the digital, high tech and low carbon innovations that will shape the future, not just a consumer of them.
"To encourage others to see Scotland as the place to research, design and manufacture their innovations – for us to become a laboratory for the rest of the world in the digital and low carbon technologies we want to champion – we must also become early adopters of them. We must be bold in our ambitions."
"This programme is about equipping Scotland – not just for the next year – but for the next decade and beyond."
But opponents criticised shortfalls in plans for education, mental health and fair taxation in particular.
Scottish Conservative leader Ruth Davidson said: "The first minister is opening the door on greater tax rises today.
"We say stop taking ever more money from the pockets of Scotland's workers – we must instead go for growth."
Scottish Labour's acting leader Alex Rowley said: "There are positive measures in the government's programme today, but there are still huge challenges facing Scotland that are not addressed.
"We will work with the government where we can, we will hold them to account and we will bring forward the ideas to tackle the big challenges for Scotland."
Scottish Greens co-convener Patrick Harvie said: "The exploration of a Basic or Citizen's Income, a longstanding Green policy, is a positive step, and confirmation of support for John Finnie's child protection bill is very welcome. But on a host of issues, this is a government that remains overly cautious and it must be prepared to go further.
And Scottish Lib Dem leader Willie Rennie said: "The SNP has a lack of ideas, the fire has gone and they are stuck in an ivory tower."