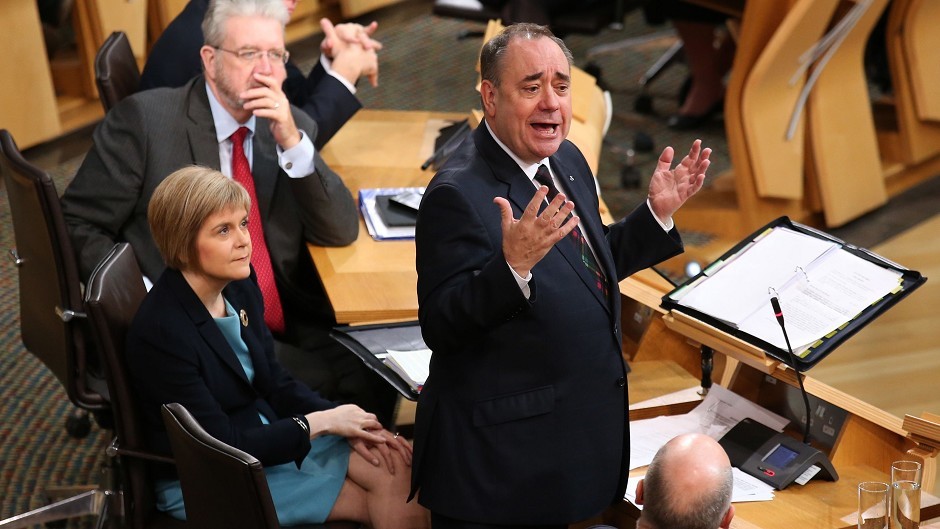 Opposition leaders clashed with Alex Salmond's legacy as he led first minister's questions for the last time yesterday.
They claimed he had failed in a series of areas ranging from education and health to public services. But the first minister insisted his government's had made "substantial achievements".
Labour said his exit from power marked the end of an era, but his true legacy was a Scotland "more divided than ever" after more than seven years of SNP at the helm.
Jackie Baillie, standing in because the Scottish party has no leader, told Mr Salmond while she did not deny his love of Scotland he could not be proud of his time in office.
"The real tragedy is that he was so blinkered by his passion for independence that powers he already had – powers to tackle poverty, to reduce inequality to deliver social justice – were pushed into second place," she said.
She added: "Is it not the case that his real legacy is leaving Scotland more divided than ever?"
As he took centre stage for his 215th appearance at first minister's questions, Mr Salmond said: "I think there have been substantial achievements – if I could name but two, the reintroduction of free higher education in Scotland and, looking forward, the introduction of free school meals in primaries one to three – I think that's a substantial move forward."
Scottish Tory leader Ruth Davidson said his record in government fell well short of his own claims.
She insisted the government had met only two out of 11 of its own performance indicators, adding: "In Scotland our levels of educational attainment are stagnating, there is no improvement in reducing reconviction rates among offenders, the gap in research and development funding between Scotland and other European nations is as big as ever, and people's satisfaction with their public services is worsening."
The first minister responded, saying there had been "substantial achievements in both education and health".
He added: "People's respect for the health service is increasing, which I think is a fantastic testament in these times of austerity
"Of course, educational attainment in Scotland is rising, not falling, and the successful introduction of the curriculum for excellence gives us great hope for the future."