The Scottish Conservative leader has warned that plans for "radical" land reform could threaten food security.
Ruth Davidson, who addresses the issue in her column in today's paper, claimed the programme was based on dogma not practical issues and that taxpayers could be "stung" for millions in pounds in compensation.
When she took office, First Minister Nicola Sturgeon promised a "radical programme" of land reform including the removal of tax breaks for shooting estates in order to boost the community land buyout fund to £10million.
Ms Davidson said organisations such as the Royal Institution of Chartered Surveyors (RICS) and the NFU believe that the reforms ignore the primary purpose of agricultural land which was to produce food. On top the government's own review group had warned of the cost of compensation to land owners.
And she demanded that Scottish Government bring forward the "hard evidence" showing the legislation will make farming more productive.
Speaking at first minister's questions in Holyrood, Ms Davidson said: "There is a real risk that less food will be produced in Scotland, leading to less food security, and the taxpayer stung for compensation in order to make it happen. That's the warning."
Ms Sturgeon said: "Scotland's land makes a huge contribution to our society and to our economy, but I believe that the people of Scotland want the land to be owned and used for the benefit of the many, not the few.
"I have said on a number of occasions that responsible landowners have nothing to fear from our land reform agenda."
She said land reform was not about breaking up family farms but ensuring tenant farmers were able to enter the industry.
Afterwards Ms Davidson accused the first minister of dodging the issue over hard evidence because "she knows no such evidence exists"
She said: "We know the SNP is trying to hide behind shooting estates to turn this into a class war. But this isn't about the landed gentry – this is about family farmers, it's about ordinary rural workers."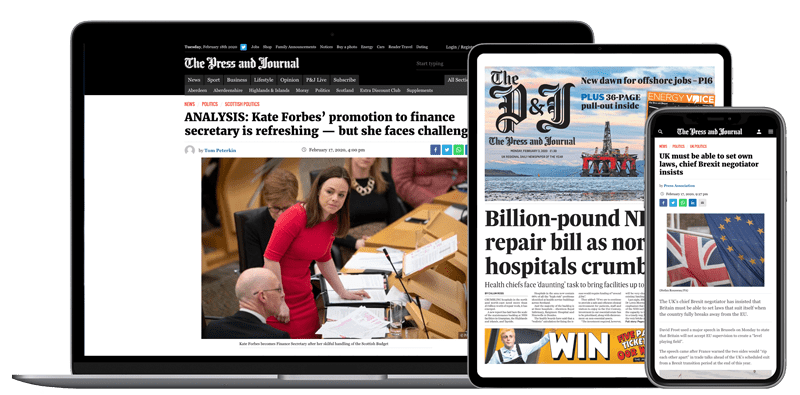 Help support quality local journalism … become a digital subscriber to The Press and Journal
For as little as £5.99 a month you can access all of our content, including Premium articles.
Subscribe