 The Scottish Government may need permission from Westminster to start negotiating an independence deal after a "yes" vote, it has been claimed.
A group of peers has said that a Bill would need to tabled quickly in the UK Parliament to devolve the powers to Holyrood.
The House of Lords' constitution committee also said that Scottish MPs should be banned from being in the rest of the UK's negotiating team, or voting on any deal to end the Union.
It would mean high-profile figures such as Chief Treasury Secretary Danny Alexander and Scottish Secretary Alistair Carmichael being kept out of the process.
In a report published today the peers recommended a deal be reached with the Scottish Government to ensure UK ministers continue to represent Scotland's interests overseas in the 18 months between a "yes" vote and independence, to avoid "limbo".
However, the lords also said that Westminster would be under no obligation to reach a deal by the SNP's March 2016 target date for independence.
On the negotiations, the report said: "The evidence we received suggested that the UK Government are likely already to possess legal power to negotiate, but the Scottish Government may not.
"In the event of a "yes" vote, this should be put beyond doubt. In that event, soon after any such vote, a Bill should be introduced to the UK Parliament which would establish the negotiating team for the rest of the UK and devolve power to the Scottish Parliament to establish a negotiating team for Scotland."
The report added: "We conclude that MPs for Scottish constituencies should not be involved in holding the negotiators for the rest of the UK to account, nor in voting on any measure which ratifies the outcome of the negotiations."
It also recommended that the rest of the UK's negotiating team should consult Labour and the Welsh and Northern Irish leaders, to avoid any disruption to the talks caused by next year's UK election.
On the SNP's deadline, the peers said: "There is no constitutional principle by which that timetable would bind the rest of the UK.
"The UK Government should not put the interests of the rest
of the UK at risk by attempting to stick to that timetable."
Committee members include Inverness-born former Lord Chancellor Derry Irvine, and former Scottish Secretary Ian Lang.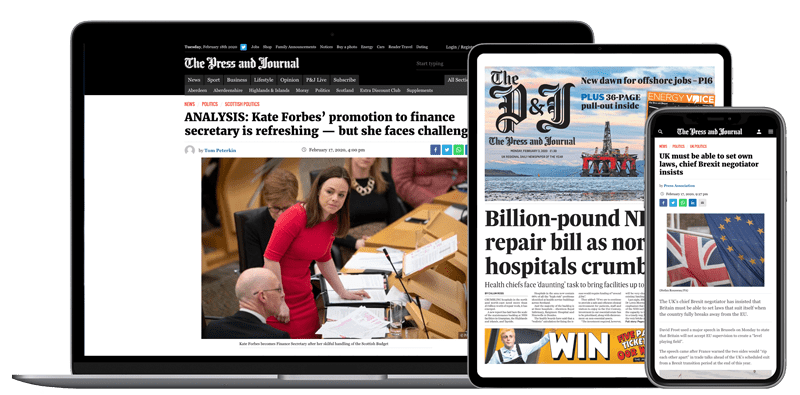 Help support quality local journalism … become a digital subscriber to The Press and Journal
For as little as £5.99 a month you can access all of our content, including Premium articles.
Subscribe