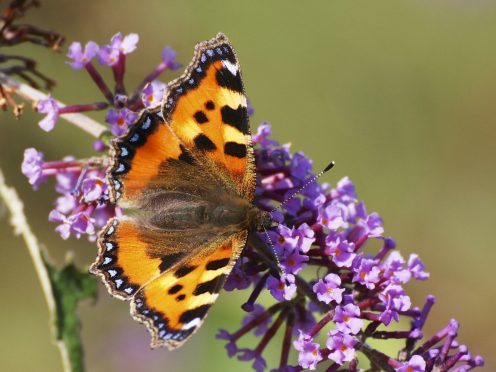 Stephen Walsh
A charity is appealing for volunteers to spread their wings and help safeguard butterflies in some of the north's busiest areas.
Butterfly Conservation Scotland has launched an urban project which aims to record sightings of the colourful insects in built-up areas.
The scheme was initially introduced in the central belt, but the charity is now appealing for volunteers further north to get involved.
The middle of August is typically peak season for butterfly spotting, but, so far, there have been few recorded sightings, which the charity argues could be down to the poor weather.
Anthony McCluskey, project officer, said: "We are asking people to send us their sightings about two or three times a year.
"It helps us to know which butterflies are doing well and which ones are struggling in urban areas.
"There are lots of things that can affect the population, developments being built on brown-field sites, for example, which people assume are derelict but can actually provide great habitats.
"Even smaller issues, such as councils cutting grass too regularly and getting them to do that kind of thing less can actually help."
Among the more familiar species that can be spotted at gardens and parks across the country are the peacock and the small tortoiseshell.
They lay their eggs upon nettles and thistles, and adults drink nectar from a wide range of garden plants such as buddleia and sedum.
The charity will use the submitted sightings to inform its habitat creation work which will be done in partnership with councils.
Mr McCluskey added: "We'll be doing more training next year. So anyone who offers us recordings this year will be offered that.
"The main tip we can offer is just to keep your eyes open, because butterflies can be spotted anywhere."
Sightings can be recorded using a mobile phone app called iRecord Butterflies or by visiting www.butterfly-conservation.org