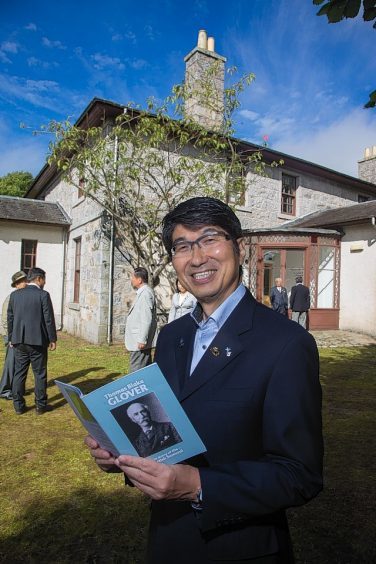 Whisky, rugby and renewables all helped forge stronger links between Aberdeen and the Land of the Rising Sun yesterday.
The Mayor of Nagasaki led a delegation on a tour of local landmarks during a visit aimed at strengthening civic and business links.
However, more than a century after his death Thomas Blake Glover, dubbed the 'Scottish Samurai', remains the real bind between the two ports.
Glover was instrumental in the development of Japan as an industrial nation in the late 1800, and was one of the founding fathers of Mitsubishi in Nagasaki.
Speaking in the gardens of Glover's former home in Bridge of Don, Nagasaki's Mayor Tomihisa Taue, said: "It is very important for our two cities to work together to build up strong links between us because Aberdeen produced our greatest man in industry Thomas Blake Glover.
"But it is not just the legacy left by Thomas Blake Glover, we are also very interested in the work Aberdeen is trying to achieve in renewable energy."
Sadly Glover House has lain empty since 2012 but last week city councillors agreed to transfer £150,000 from the Bridge of Don Trust to Glover House to renovate and redevelop it as a heritage site.
The great industrialist's Aberdeen home was bought by Mitsubishi in 1996 and later given to the Grampian-Japan Trust before being converted into a museum.
Yesterday, Mayor Taue said he would like to see it re-open to the public.
He said: "It is a beautiful setting and a very important place because not only did Thomas Blake Glover live here, he also brought young Japanese students to study here.
"Mitsubishi donated the house because they wanted to honour the memory of Thomas Blake Glover.
"I do wish the house would be opened up to members of the public again.
"It would be good for the community to get use of it."
The party also visited the hydrogen production and refuelling station in Kittybrewster, Aberdeen Maritime Museum, Inverurie's Glen Garioch Distillery and the Scottish Rubgy Academy at the University of Aberdeen.
The mayor said: "Rugby is very popular in Nagasaki and Scotch whisky is a very important part of the culture so we want to learn all about it."